Gold Price Steadies Vs. Strong Dollar After Comex Specs 'Scramble Out' on Fed Rate-Rise Forecasts
Monday, 1/31/2022 14:28
GOLD PRICES struggled to rally on Monday after recording the worst week in 2 months as speculators slashed their net long position in Comex gold futures and options, with global markets now awaiting more central banks decisions following the US Fed's vow to raise Dollar rates faster in 2022, writes Atsuko Whitehouse at BullionVault.
Spot gold prices traded sideways Monday lunchtime in London, adding $5 per ounce from 3-week lows around $1791 per ounce after losing 2.4% drop last week – the biggest 5-session loss since November – following the
'hawkish' comments
from Federal Reserve chairman Jerome Powell.
The Dollar index – a measure of the US currency's value versus its major peers – meantime hovered close to Friday's 18-month high as traders eyed upcoming Australian, UK and European central bank meetings.
The Dollar's 1.6% jump last week was the biggest weekly rise since mid-2021.
"Gold's rally above $1830 in the [previous] week
helped boost post-FOMC vulnerability
," says derivatives platform Saxo Bank's commodity strategist Ole Hansen, pointing to mid-January's 39% increase in the net long position held by speculative traders betting on gold prices through Comex derivatives.
"These developments helped explain why the subsequent sell-off following last Wednesday's hawkish FOMC tilt ended up being that aggressive...Recently established longs
scrambled to get out
."
Data from US regulators the CFTC say that hedge funds and other leveraged speculators grew their bullish betting on Comex gold futures and options by 18% in the week ending Tuesday 25 January, eve of last week's US Fed statement and press conference.
That same Managed Money category also cut its bearish betting by 18% as a group.
Overall, that pushed the net long position of Managed Money traders to the heaviest since late-November, just before US President Joe Biden
confirmed a second term
as Fed chief for Jerome Powell, a move widely seen as backing Powell's aim of starting to raise overnight interest rates from their current Covid Crisis low of 0%.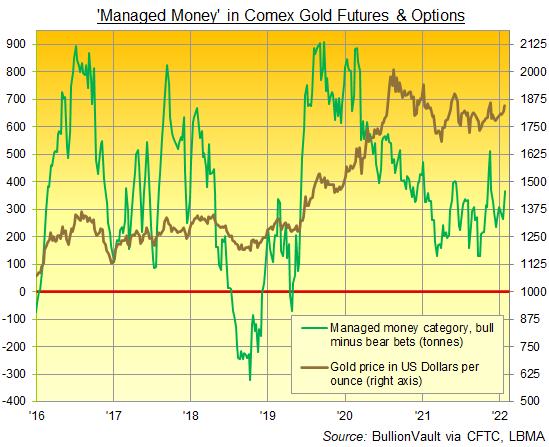 "If the data say that things have evolved in a way that a 50-basis point move is required or [would] be appropriate, then
I'm going to lean into that
," said Raphael Bostic, president of the Fed's Atlanta branch (and a non-voting member of the FOMC this year) in an interview with the
Financial Times
.
The Fed's preferred measure of inflation on Friday showed the cost of living rising 4.9% in 2021, the fastest such rise in the core PCE index – which excludes 'volatile' fuel and food – since 1982.
With the UK gold price in Pounds per ounce holding flat on Monday at £1336,
economists now expect
the Bank of England to raise UK interest rates on Thursday from 0.25% to 0.5% in response to
inflation reaching
5.4% in December, a level not seen for almost 30 years.
The European Central Bank also has a policy meeting on Thursday, but analysts expect no change after the ECB in December laid out plans to suspend near QE bond purchases for its €1.85 trillion pandemic stimulus scheme ($2.09 trillion) by end-March.
Euro area inflation hit 5.0% in December, the
highest on record
for the currency union begun in 1998, with energy prices up 26% compared to a year earlier, and January's data will be out the day before the ECB's meeting.
Gold priced in the Euro today slipped back to €1600 before regaining those €5 per ounce as new data from Germany said the currency union's largest economy saw consumer prices rise 4.9% per year this month, slower than December's pace but faster than analysts forecast.
Latest Comex data from the CFTC meantime say that speculators also raised their net bullish betting on silver prices in the 7 days preceding the Fed's January policy statement, also reaching the heaviest since 23 November with growth of 15%.
Positioning on
platinum prices
meantime turned net bullish for the first time in 7 weeks.
Platinum, which finds two-thirds of its demand from industrial uses, led by auto-catalysts, today traded sideway at $1014 per ounce, following a 1.8% fall last week.
Silver meantime edged higher by 0.4% to $22.58 per ounce, still near its lowest levels in 3 weeks, after dropping 7.5% last week.
Energy prices rose again Monday with Brent crude up 1% to $90.90 a barrel, heading for its
best January in at least 30 years
as geopolitical risks around the Russia-Nato stand-off over Ukraine added to strong demand growth amid the weakening impact of the Omicron coronavirus variant.
Gold and financial markets in top precious-metal consumer China were closed Monday for the week-long Lunar New Year Holiday.