Gold Price Hits 9-Week High as Dollar Falls, Trump Trade Tariffs 'Threaten Inflation', Silver Comex Bulls +10%
Monday, 1/23/2017 17:06
GOLD PRICES touched 9-week highs against a falling Dollar on Monday, rising while world stock markets fell amid fresh concerns over inflation as new US president Donald Trump moved to enact more of his campaign promises on trade and regulation.
Gold prices twice hit $1219 per ounce, the highest since 22 November in Dollar terms, but held 0.8% below last week's high versus the single-currency Euro of €1141.
Silver held firm with gold prices against the Dollar, trading near $17.20 per ounce as commodity prices rose with government bond prices.
Bullish
speculation in Comex gold futures
last week retreated net of bearish bets amongst non-industry players according to data from US regulator the CFTC compiled by Canada-based bullion bank Scotia.
Including options contracts however – giving more leverage but also more risk to derivatives traders – the 'Managed Money' category grew its net bullishness for a second week running.
So-called "net speculative length" grew 10% to stand just below half its last 10 years' average.
Net speculation in Comex silver futures and options amongst money managers also grew by one-tenth, rising to 225% of the last decade's average.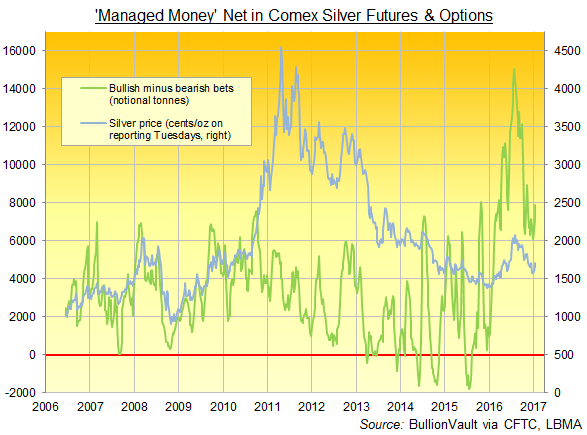 "Gold is finding support from the weaker US Dollar," says a note from German financial services group Commerzbank's commodities team.
"[The Dollar] depreciated noticeably following [Friday's] inaugural speech. Yields on 10-year US Treasuries have also fallen sharply again."
But any companies which don't bring jobs back onshore and import goods to the US will suffer "a very major border tax," Trump warned.
The UK Government will also offer UK businesses "a range of support, including addressing regulatory barriers," said Prime Minister Theresa May on Sunday, launching what her Conservative administration calls
a "modern industrial strategy"
already
welcomed as a "landmark opportunity"
by business leaders' lobby group the Confederation of British Industry.
"The first risk [of] higher inflation seems to come from stronger growth," says currency strategist Steven Barrow at Chinese-owned commodities and bullion market-maker ICBC Standard Bank, noting that the US economy "is already at full employment" according to the Federal Reserve.
"A second threat comes from the rise in commodity prices...[and] a third risk is the stronger Dollar...It could quickly raise price pressures globally, and especially in emerging market countries as their currencies fall.
"The Trump presidency also implies a protectionist threat. The border tax would lift domestic [US] inflation."