Gold Price Flat Ahead of Biden's Covid Trillions as Japan Weighs 'Injecting Money', Germany GDP Shrinks Less Than 2009
Thursday, 1/14/2021 14:35
GOLD PRICES struggled around last weekend's level for US, UK and Japnese investors on Thursday, failing to rally above $1845 per ounce as the Dollar rose alongside longer-term US interest rates ahead of President-Elect Joe Biden setting out his Covid stimulus spending plans in a speech tonight.
Donald J.Trump meantime became the first President in history to be impeached twice, set to stand trial in Congress for inciting last week's deadly violence on Capitol Hill.
Last night saw "
thousands of National Guard troops
sleep on the marble floors of the Capitol and stand at the dozens of entrances surrounding the complex" as Washington hotels cancelled bookings to deter pro-Trump protesters ahead of next week's inauguration of the new Democrat president.
Best estimated at
"trillions of dollars"
by news outlets today, "Mr.Biden has said he will work to build Republican support for his [spending, tax and borrowing] plans," the
New York Times reports
, "and he will need 10 Republican votes in the Senate to overcome a filibuster."
After headline US consumer-price inflation came in for 2020 as a whole at 1.4% per year on Wednesday – further away from the Federal Reserve's 2.0% target than any year since 2015 – the latest US data today said new and continuing claims for jobless benefits both beat analyst forecasts.
To help pay such costs, the US budget deficit between tax revenues and spending
"ballooned by 60%" year on year
to total more than half a trillion dollars in the 3 months ending December, CFO Magazine reports of other new figures released yesterday.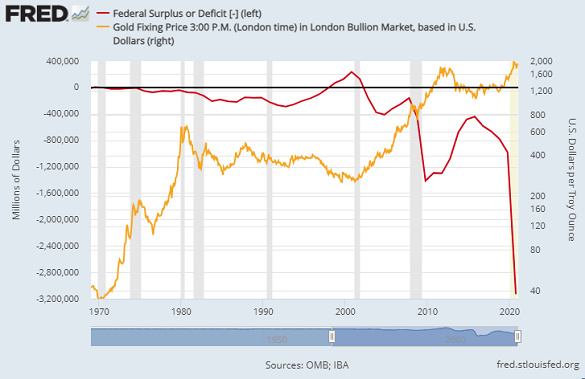 Medium and longer-term Treasury bond yields retreated from
multi-month highs
after the jobs data, with a rise in debt prices nudging 10-year rates down to 1.09%.
"Sharp sell-off for the precious in Asia today as USD/JPY spiked above 104," says the trading team at Swiss refining and finance group MKS Pamp.
The Japanese Yen sank overnight after comments from Bank of Japan chief Haruhiko Kuroda that "Japan's economy is picking up" were flatly contradicted by a senior member of the ruling cabinet.
"Suddenly demand has gone," said Taro Kono, minister for administrative and regulatory reform, "so I think the government, if it is necessary, will be
willing to inject money
into the economy," meaning a possible 4th emergency budget to counter the Covid Crisis.
"Gold is again testing the 200-day moving average" – a key level for some technical analysts using chart patterns to decide their trades – "which now stands at $1842," says MKS.
"Silver [also] tested toward support at $25 this morning but has recovered some of the early losses."
The drop in gold prices saw the gap between London and Shanghai quotes hold above $4 per ounce, extending to 4 days the sudden return of a small premium for metal bought in the world's central storage and trading hub and shipped into gold's No.1 consumer nation.
"That said, investors will likely also be navigating potential portfolio risks including ballooning budget deficits, inflationary pressures, [and] market corrections amid already high equity valuations."
The WGC says gold prices will "remain well supported" thanks also to a rally in household demand for the metal as jewelry led by "the nascent economic recovery, especially in emerging markets."
"Of the existing 18.5 million Bitcoin," says the
New York Times
, "
around 20%
– currently worth around $140 billion – appear to be in lost or otherwise stranded wallets."