Gold Erases Last of 2013 Price Crash with Comex Speculators 5x More Bullish
Monday, 1/13/2020 15:01
GOLD PRICES gave back an earlier rally in London trading on Monday, falling back to $1548 per ounce as world stock markets tried to extend last week's run of new all-time highs.
At Friday's close in New York, the MSCI All-Countries index set its 13th new all-time record high of the last 22 trading days.
Gold prices meantime ended Friday for their fifth weekly gain in a row, the longest stretch since June, fixing at regulated benchmark the LBMA Gold Price's 3pm session at $1553.60 per ounce.
That saw gold set its highest weekly close at the London afternoon benchmarking since 5 April 2013 – eve of bullion's steepest-ever price crash, wiping over $1 trillion off the value of all the precious metal above-ground.
Back then, just before the
2013 gold crash
, speculative traders betting on bullion prices through Comex futures and options held a net bullish position less than one-fifth the current size.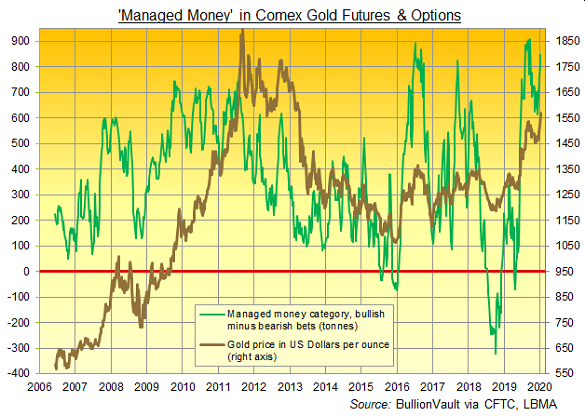 In the week-ending last Tuesday, just before gold prices spiked to $1611 on news of Iran retaliating with rockets against US targets in Iraq for killing a senior military commander by drone, the so-called 'Managed Money' category of derivatives players grew its bullish betting on gold prices for the 4th week running, according to data compiled and published by US regulator the CFTC.
Allowing for the same group's bearish bets, that put their net speculative long position at the second largest ever, just behind September's all-time high.
Silver prices
today followed gold prices lower to trade back beneath $18 per ounce, while platinum lost $10 to $970.
Commodity prices slipped 0.3% overall as crude oil retreated, despite members of the Opec oil producers' cartel
making deeper output cuts
than officially announced overall according to news and data agency S&P Global Platts, led by No.1 Saudi Arabia compensating for 'cheating' by Iraq and Nigeria.
"The US still needs Middle East oil for stability and the
spare capacity of Opec
member countries," reckons industry analysts speaking at the Atlantic Council's Global Energy Forum yesterday, disputing President Trump's claim when vowing last week to destroy Iran if it attacks the US that the United States has achieved energy independence.
"
He's incorrect
," adds economist Edward Hirs at the University of Houston.
"We consume roughly 20 million barrels of crude oil each day. We only produce about 12.5 million barrels of crude oil each day."
Leaders of the 2 warring factions in Libya – the Opec cartel member where daily crude output remains one-third below its pre-2011 levels under dictator Muammar Gaddafi – today
met for peace talks in Moscow
, with a Russia-Turkey brokered ceasefire already in place.
Tuesday meantime brings the first end-2019 earnings reports from US corporations, with analysts forecasting a 2% decline overall from a year earlier – a "pretty low bar" according to one investment strategist.
"The confidence that investors have in the re-acceleration of the economy and profits hasn't been shaken, and
you need that to justify prices
where they are and to continue to see positive performance in 2020," the Wall Street Journal quotes Thomas Hainlin at US Bancorp's Ascent Private Capital Management division.