Opec Oil Output Cut Sees Gold Price Near Record Highs on 'Uncertainty'
Monday, 4/03/2023 15:19
GOLD PRICES regained and then beat last week's new record monthly closing highs on Monday, reversing a brief dip as oil prices leapt following a sudden output cut from the Opec+ producer cartel, says Atsuko Whitehouse at BullionVault.
Crude oil prices leapt as much as 8% early Monday after the group of 23 oil-exporting countries said they will reduce output by more than 1 million barrels per day between them – led by giant producer
Saudi Arabia
– to provide "stability" in the market.
"[This] will
keep a lid
on lofty gold prices in the short term as the Dollar perks up," reckoned Nicky Shields, head of metals strategy at Swiss refining and finance group MKS Pamp, "but it complicates central bank efforts as it enforces more inflation volatility."
US West Texas Intermediate and Europe's Brent crude oil futures both eased back by Monday lunchtime in London to show a 5.6% and 5.4% rise for the day respectively, close to the sharpest gains in a year.
Gold prices in US Dollar terms initially fell nearly 1% in Asian trading to touch $1950 per ounce, before rising back to Friday's London close at $1979 per ounce and surging past $1985 around Monday afternoon's London benchmarking auction.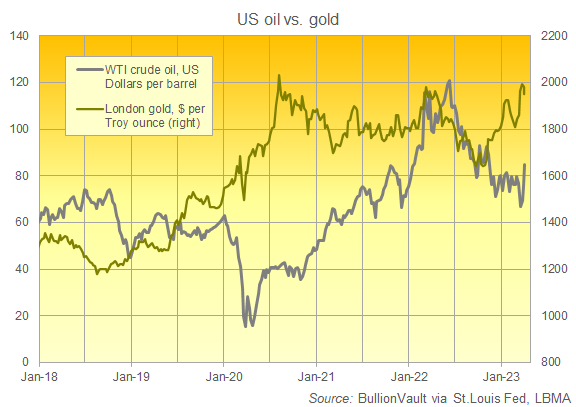 "Energy commodities as a whole are only 7% of US [cost-of-living calculations]," says Rhona O'Connell, head of precious metals analysis at international brokerage StoneX.
"Economic uncertainty is the more important element here, and in principle it can also be argued that economic uncertainty will be gold-friendly."
The US Dollar rose against its major peers in the currency markets following the oil cartel's news, as investors
raised their bets
on another interest-rate rise at the US Federal Reserve's next meeting in May.
With crude oil prices briefly turning negative during the first-wave Covid Crash only to hit 15-year highs as Russia's invasion of Ukraine followed a steep rebound in the market, the new cuts come after oil prices fell to 15-month lows in March amid the 'credit crunch' fears sparked by the
collapse of US bank Silicon Valley
and the
'shotgun' Swiss banking takeover
of former giant Credit Suisse by its rival, UBS.
The Organization of the Petroleum Exporting Countries, plus Russia and other allies, had
already agreed cuts of 2mmbd
for 2023 despite the US White House's Biden administration lobbying its Saudi allies to avoid boosting prices.
"We don't think cuts are advisable at this moment given market uncertainty – and
we've made that clear
," a spokesperson for the US' National Security Council said.
US Treasury yields ticked higher on Monday as two-year Us treasury yields rose about 8 basis points to 4.11% and ten-year yields rose about 4 basis points to 3.51%. Yields rise when bond prices fall.
The moves took some of the advance from a bond market rally on Friday, after the Fed's preferred gauge of inflation, the core PCE price index, came in softer than expected for February at 4.6% from a year earlier, down from 4.7% the prior month.
European stocks inched higher on the first trading day of the second quarter, with the pan-European Stoxx 600 index was up 0.1% as oil and gas stocks led gains, while travel and leisure saw downturn. Banking stocks were up 1.6%, despite UBS shedding 4% after job cut rumours.
The newly merged bank
could see 30% sackings
among the combined workforce, Swiss reports say, while the country's federal prosecutor is now investigating whether people involved in the takeover – from government and regulators to bank executives –
broke criminal law
by leaking sensitive details to the press.
Wholesale bullion prices in the spot market meanwhile recovered earlier 0.5% losses for UK investors, rising back to Friday's close at £1598, as prices for Euro investors rose further to €1820 per ounce.