China's Gold Market Premium Hits $31 as London Price Hits New 10-Month Low on Comex, ETF Sell-Off, India Frozen
Monday, 12/12/2016 15:55
GOLD MARKET losses to new 10-month lows against the Dollar at $1151 were reversed Monday afternoon in London, with prices rallying $10 per ounce as a drop in China's stockmarkets saw Western equities hold flat overall.
Silver held firmer overnight, jumping over half-a-dollar to near last Wednesday's 3-week high above $17.20 per ounce.
The giant SPDR Gold Trust (NYSEArca:GLD) shrank in size every day last week as shareholders liquidated their positions, retreating by almost 100 tonnes since Donald Trump's victory in the US presidential election.
The so-called 'Managed Money' category of traders in Comex gold futures and options last week cut their bullish bets back to the 10-year average, but raised their bearish bets that gold market prices will fall to the highest level since start-February, well over twice the last decade's average level.
Net-net, that saw their "net speculative long" in Comex market futures and options drop for the 4th week running, falling below the 10-year average after holding above for 40 weeks in succession.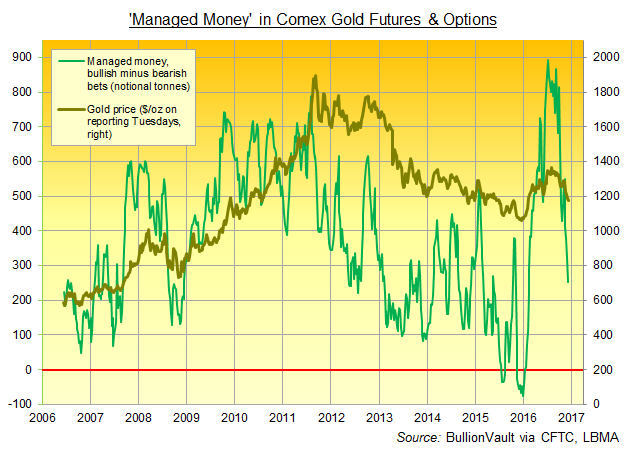 "Daily indicators are close to a floor," says a note from the chart analysts at French investment bank and bullion market makers Societe Generale. "However signs of rebound are still awaited."
"With an interest-rate increase a near certainty," says a note from Swiss refining and finance group MKS's trading desk, "the risk continues to build to the topside and we look toward $1150 to restrict further downside moves."
For now however, "Early interest out of Shanghai supported gold around $1155 during Asian trade," the note from MKS says, "[but] the continued elevated premium against loco-London gold once again [provided] underlying support, rather than...a distinctive bid for the metal."
Shanghai gold market prices today slipped 0.6% against the Yuan at the city's
benchmarking price auction
, but global quotes for London settlement meantime traded over 1% in Dollar terms.
That drove the Chinese premium, for metal already landed in Shanghai, to almost $31 per ounce above the international standard of London settlement – the highest level since October 2013, when
falling gold prices met strong demand
from what is now the world's No.1 consumer.
Today in contrast, this Chinese gold market premium is the result of tighter supply – not demand – says analyst Jonathan Butler at Japanese conglomerate Mitsubishi, pointing to how China's worsening capital outflows have seen Beijing impose new exchange controls, reducing the number of gold import licenses issued.
"Calling the bottom of the gold market is proving challenging," Butler writes in his latest weekly note, "since the traditionally gold-supportive factor of physical demand in India [is also] largely absent at present."
India's shock demonetisation of its largest banknotes – worth 86% of all currency in circulation, and aimed at forcing black market and undeclared cash holdings into regulated, taxable bank accounts – may knock up to 2 percentage points off its world-beating GDP growth, last seen at 7.7% between July and October.
Tax authorities in the world's No.2 consumer gold market have meantime
compiled a list of bullion dealers and jewelers
they believe made "suspicious" sales following the ban, accounting them before the deadline and also failing to collect customers' individual tax account numbers.
Axis Bank – India's third-biggest private sector lender, and its No.1 gold importer – said at the weekend it has frozen the deposit accounts of several jewelers and gold dealers
after suspending 19 employees over accusations
of helping to launder 'black money' acquired illegally beyond the demonetisation deadline.
Central bank the Reserve Bank of India took the unusual step Monday of
formally denying rumors
that Axis faces losing its banking license over the allegations.
The government of Venezuela today announced the cancellation and replacement of its largest banknotes – already worth less than US$0.02 each – in what Caracas called
an attack on 'mafia hoarding'
but which analysts had expected amid the Socialist Latin American state's 1,500% annual inflation rate.