Gold Defies Price Models, High Real Yields and 5% Fed as Shanghai Specs 'Drive 2023 Jump'
Tuesday, 1/10/2023 15:06
The GOLD PRICE held near 8-month highs on Tuesday as the Dollar steadied on the currency market just above its weakest since June and Western stock markets slipped lower on 'hawkish' comments about US interest rates from Federal Reserve policymakers.
With
US inflation data
for December due out this Thursday, Federal Reserve chief Jerome Powell – speaking today at the Swedish Riksbank's annual symposium in Stockholm – disappointed expectations for
a 'Jackson Hole'-type statement of intent
about the US central bank's next move on interest rates, but stressed the need to push ahead with fighting inflation despite the risk of political opposition to higher borrowing costs.
With Fed rates now at 4.5%, "I think
something above 5%
is absolutely, in my judgement, going to be likely," said San Fran Fed president Mary Daly yesterday.
"We are just going to have to hold our resolve," agreed Atlanta Fed president Raphael Bostic – like Daly also a non-voting member of the FOMC in 2023 – in separate remarks Monday, adding that US interest rates should remain
above 5% for "a long time
[to] let the policy work" in slowing inflation from 2022's four-decade highs.
But fewer than 1-in-20 bets on Dec 2023 interest-rate futures now sees the Fed ending this year at 5.0% or above, according to
data from derivatives exchange the CME
, with almost 1-in-2 such bets seeing Fed rates at today's level of 4.5% or below.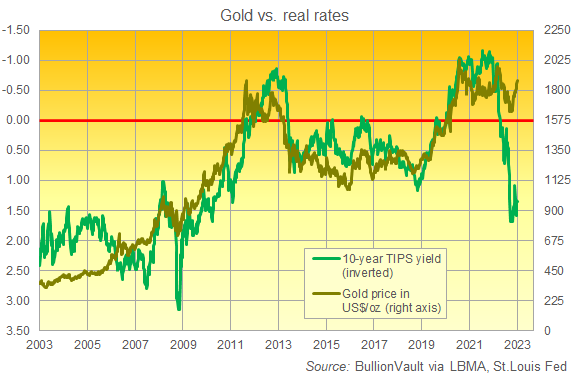 "Following the news about
China adding reserves
," says ex-HSBC fund manager Charlie Morris, founder of digital-asset data provider ByteTree, "gold up slightly but TIPS [prices] up much more [driving yields lower].
"This is rapidly turning into a weak Dollar story as US real yield falls.
Either way, this gap closes
[between current gold prices and models based on TIPS rates]."
With gold prices trading at $1876 per ounce on Tuesday, the so-called 'real yield' implied by 10-year Treasury Inflation-Protected Securities – against which gold tends to show a strongly inverse correlation – slipped to 1.33% per annum, sharply higher from this time last January but below November's 13-year peak of 1.69%.
"Market expectations have likely begun to discount Fed rate cuts in mid-2023," says new analysis from Canadian bank RBC.
"In our view, these cuts
are not yet a foregone conclusion
[but] gold has already begun to heavily discount this future potential upside. [So] we see gold risks as skewing to the downside vs [current] spot [prices]."
"[Gold's 2023] rise has puzzled analysts," says
a column at Bloomberg
, "[because] there aren't any obvious macro narratives to drive gold's move.
"Have inflation fears picked up over the last two months? No, and if anything it's the opposite case. Movement in gold is often associated with geopolitics. Yet nothing particularly novel has happened on that front of late."
"Gold prices [are] vulnerable to a steep consolidation lower," reckons analysis from Canada-based brokerage TD Securities, pointing to a jump in speculative bullish betting on the Shanghai Futures Exchange and noting "gold's [current] lack of alternative buyers and its current mispricing relative to its recent historical relationship with real rates."
Declining to comment on 2023 Fed policy or the economic outlook in detail, Chairman Powell today
stressed instead
the political independence of the US central bank, saying "We should 'stick to our knitting' and not wander off to pursue perceived social benefits that are not tightly linked to our statutory goals and authorities."
Referring perhaps to what the
Wall Street Journal
called
"a woke mandate"
for the Fed proposed last summer by the Biden White House, "We are not, and will not be, a 'climate policymaker'," the Fed chairman went on, saying "it would be inappropriate for us to use our monetary policy or supervisory tools to promote a greener economy without explicit congressional legislation."
Gold priced in Euros meantime traded at €1748 per ounce, below last weekend's level, while the
UK gold price in Pounds per ounce
edged back up to £1544, coming within 2.5% of its all-time record highs.
Silver was weaker, dropping to $23.60 – a level first reached a month ago after jumping by more than 1/3rd from end-August's 2-year Dollar lows.
Platinum prices
also cut their strong New Year 2023 gains, slipping 2.3% from yesterday's new 10-month highs.
Crude oil today held onto its recent rally, trading above $80 per barrel of Brent, but natural gas prices fell on both sides of the Atlantic as Europe's record-mild winter weather continued.