Gold Price Slips as Oil Jumps Again, US-UK Split from Eurozone Over The 'Inflation Thing'
Monday, 10/11/2021 14:37
GOLD PRICES edged lower on Monday while US oil prices rose to 7-year highs, bond-market traders said they expect Fed tapering to begin next month, and a Bank of England policymaker warned of a "significantly earlier" rate rise in the UK, writes Atsuko Whitehouse at BullionVault.
Spot gold prices slipped 0.1% to $1754 per ounce after cutting Friday's 0.9% spike following mixed employment data, with the US economy
creating jobs much slower-than-expected
in September but the unemployment rate dropped to an 18-month low and wages accelerated.
"This should be more than sufficient to
keep tapering on schedule
for the November announcement," Ian Lyngen, BMO's head of US rates, said in a note, pointing to the wage increase.
Gold prices for UK investors meanwhile dropped 0.4% to £1286 per ounce as Sterling strengthened against the Dollar on the FX market after a Bank of England policymaker said he wants to start raising borrowing costs sooner.
"I think it is appropriate that the markets have moved to pricing a significantly earlier path of tightening than they did previously," said Michael Saunders – one of only 2 policy makers who voted last month to end the BOE's bond buying program immediately – on Saturday.
With inflation running well above the UK central bank's 2.0% target, "We are going to have a very delicate and challenging job on our hands," governor Andrew Bailey told the Yorkshire Post newspaper.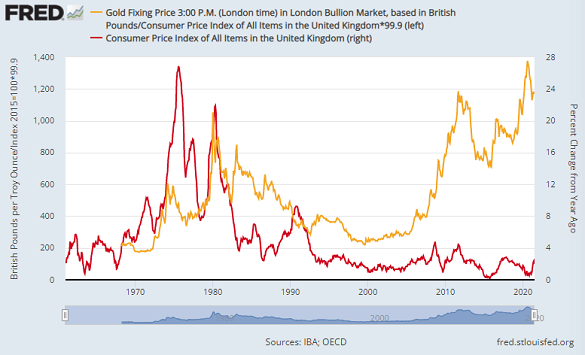 The UK's consumer prices index surged by 3.2% in the 12 months to August, with the pace of inflation showing its largest-ever month-on-month increase on the current CPI data beginning January 1997.
Data for September are due next Wednesday.
European gold prices meantime edged lower by 0.1% to €1518 per ounce Monday as the single currency continued to hold 15-month lows against the Dollar after European Central Bank president Christine Lagarde reiterated her call against
"over reacting" to what she calls a "largely temporary" rise
in inflation in an interview with
Der Spiegel
.
Consumer price inflation in the 19 countries sharing the Euro accelerated to 3.4% year on year in September, a 13-year high.
Oil prices rose further on Monday, extending multi-week gains, as Brent crude was up 2% at $84 per barrel, the highest level since October 2018, while US oil rose 2.5% at $81.30, the highest since late 2014.
Spot silver held 0.5% down at $22.56, giving back last week's gain.
The
price of platinum
– which finds two-thirds of its demand from industrial uses, led by auto-catalysts but also including hydrogen fuel cells – held at $1029 per ounce, the highest level since early August.
Platinum ended Friday with its best weekly gain since late June, by increasing 5.1% in US Dollar terms.
US bond markets and most banks are closed for Columbus Day, although the New York Stock Exchange and the Nasdaq will both open.