Big Inflation Miss Sees Gold Price Spike vs. Plunging Dollar as Rate-Hike Bets Sink
Wednesday, 8/10/2022 14:54
The GOLD PRICE spiked Wednesday by more than 1% to peak above $1800 per ounce for a 2nd day running against a plunging US Dollar after new data from the world's largest economy said US consumer prices were unchanged overall last month from June thanks to a sharp retreat in gasoline prices.
On an annual basis, headline CPI inflation dropped to 8.5% from
June's 40-year high
of 9.0% (itself downwardly revised by 0.1), slower than the 8.7% predicted by consensus forecasts from analysts.
So-called 'core' inflation – excluding fuel and food – held at 5.9% per year, defying analyst forecasts for a rise and half-a-percentage point below the 4-decade highs of February and March.
The news saw the Dollar sink to 5-week lows on its trade-weighted index against the rest of the world's major currencies, plunging by more than 1% on the news.
The gold price then fell back to unchanged in Dollar terms at $1795 per ounce, making for a steep drop to 2-session lows in Euros and Sterling terms at €1740 and £1470 respectively.
"Couple that with fewer drivers fueling up, and...it's possible that the national average will fall below $4 this week."
Pump prices across the USA are already more than 14% below this time in July, according to AAA data.
US crude oil today struggled around $90 per barrel, a new 7.5-year high when reached in the weeks leading up to Russia's latest invasion of Ukraine but almost 30% below early March's spike towards the
record highs of mid-2008
.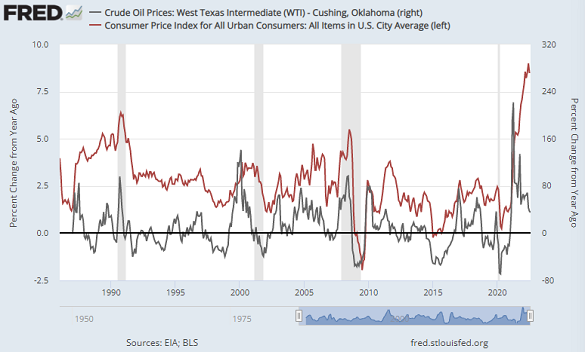 China's cost of living also missed analyst forecasts for July, new data said Wednesday, putting headline inflation at 2.7% – up from June's 2.5% per year but shy of the 2.9% expected – with producer price inflation for Chinese businesses slowing almost 2 percentage points to 4.2% rather than jumping to 8.0% as the consensus outlook had predicted.
World No.4 economy Germany in contrast confirmed that its CPI inflation rate held at 8.5% in July, just shy of May's 4-decade record on the European Union's harmonized measure.
December contracts for natural gas in Western Europe – which relies on now-sanctioned Russia for almost 2/5ths of its gas imports – today rose more than 6.5% to approach last week's fresh lifetime highs, costing more than 7 times as much as they did 12 months ago today.
The UK government is preparing contingency plans for an energy shortage in New Year 2023, news reports said Wednesday, including
4-day blackouts for industry
and possibly households too.
Bond yields whipped violently around today's US inflation data, edging towards multi-week highs ahead of the
Bureau of Labor Statistics' release
but then falling back to push longer-term borrowing costs higher once more, back towards last night's close at 2.75% on conventional US 10-year Treasury debt and 0.31% on inflation-protected TIPS.
Western stock markets rose in contrast, reversing an earlier drop in Europe after Chinese tech stocks led a sharp drop in Asia.
"Inflation slowed in July, showing Fed's rate hikes are working," says a headline at CBS.
The Federal Reserve last month raised its overnight interest rate to a ceiling of 2.5% per annum.
Betting in the interest-rate futures market sank today on the Fed making a 3rd consecutive hike of 0.75 percentage points at its September meeting,
dropping from over 60% to barely 40%
of the market and pricing the odds of a smaller half-point hike at the strongest in 3 weeks.