Gold Prices Slip at $1800 Ahead of Inflation Data and US Fed Testimony
Monday, 7/12/2021 14:39
GOLD PRICES slipped Monday morning, despite both the US Fed and the ECB pledging to continue their ultra-loose monetary policies as China's central bank eased new lending rules, with markets now focused on key US inflation data ahead plus testimony from Federal Reserve Chair Jerome Powell, writes Atsuko Whitehouse at BullionVault.
The Fed boss speaks to Congress on Wednesday and Thursday.
Rising 1% last week to book the third straight weekly gain in terms of all major currencies, spot gold prices fell 0.6% by Monday lunchtime in London to dip back below $1800 per ounce.
The Dollar Index – a measure of the US currency's value versus its major peers – rose from a dip after hitting fresh 3-month peaks last Wednesday.
Longer-term interest rates meantime continued their drop, with the 10-year US Treasury yield – which moves inversely to the bond's price – edging lower near 1.3% per annum after snapping an 8-session decline Friday.
"Disappointing for gold not to have seen more pop last week from the rally in US Treasuries," says derivatives platform Saxo Bank's commodity strategist Ole Hansen, "although the stronger US Dollar and a steep slide in especially shorter break-even inflation rates have weighed on the precious metal."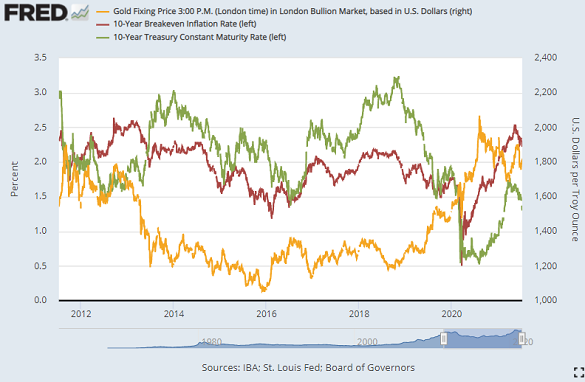 Breakeven inflation rates – a kind of forecast calculated from the gap between conventional and inflation-protected US Treasury bond yields – hit an 8-year high in early May but have now retreated almost 0.3 percentage points to less than 2.3% per annum on a 10-year outlook.
Tomorrow's US consumer-price inflation data is expected to show the cost of living rose by 4.0% in June from the same month last year excluding volatile fuel and food prices.
That would be the fastest annual pace since January 1992.
"The effects of the Covid-19 pandemic have continued to weigh on the US economy, and employment has remained well below pre-pandemic levels," said the Fed's Monetary Policy Report posted last Friday ahead of Powell's testimony this week.
Finance chiefs from the G20 economies said on Saturday that the economic outlook had improved since they last met in April but warned that new Covid-19 variants could threaten the recovery.
European Central Bank President Christine Lagarde meantime said Sunday that investors should prepare for new guidance on monetary stimulus in the next 10 days, and signalled that fresh measures might be brought in next year to support the 19-nation economy after the current emergency bond program ends.
The harmonised index of consumer prices in the single currency bloc rose by an annual rate of 1.9% in June, down from a more than two-year high of 2% in May, according to Eurostat's first estimate.
Meantime in China – where the People's Bank will reduce the reserve requirement for bank lenders by half-a-percentage point from Thursday in an attempt to encourage more lending – prices on the Shanghai Gold Exchange continued to show a premium to London today, rising to $4 per ounce on Monday after the incentive for new imports of wholesale bullion into the metal's No.1 consumer market slipped to $1.50 last Friday.
Gold prices for European investors today edged lower by 0.1% to €1519 per ounce, while gold for UK investors traded sideways at £1300 per ounce ahead of Prime Minister Boris Johnson's widely expected confirmation, due this afternoon, that England can move to step four of the government's roadmap out of lockdown as planned on 19th July.
Banks clearing gold trades in London – heart of the metal's global market –
can apply for an exemption
from tighter capital rules due in January 2022, the Bank of England's Prudential Regulatory Authority (PRA) said Friday.
The PRA has introduced an "interdependent precious metals permission" which will reduce the size of additional capital a bank must set aside against its gold-trading activity.
New banking rules, part of a sweeping international accord known as Basel III, came into effect for European banks from 28th June and will apply to London-based operations from New Year 2022.
Individual national regulators have leeway however to set certain rules, and the UK's "carve out" means
the NSFR haircut of 85%
imposed by the Basel 3 framework on unallocated gold positions need not apply.
"
A huge win today
following over 10 years of work by LBMA & its members, including the creation of an entire precious metals trade data repository," said Ruth Crowell, CEO of the London Bullion Market Association, in response.