'Buy Gold on Today's Fed Rate Hike' Traders Told as 2016 Path Seen Dovish, 'Very Short' Market Jumps
Wednesday, 12/16/2015 14:00
BUY GOLD prices jumped near 1-week highs and better against all major currencies in London on Wednesday, regaining the $1070 per ounce level in US Dollar terms ahead of today's long-awaited decision on interest rates from the Federal Reserve.
Western stock indices also moved higher – as did silver, gaining 3.3% from Monday's fresh 2009 low of $13.65 per ounce as other industrial commodities gained from this week's multi-year lows – after trading "quietly" according to one Asian bullion desk "ahead of one of the most anticipated FOMC meetings in recent history."
That phrase was last used by financial writers everywhere to
describe the Fed's September meeting
, when the US central bank surprised many traders and analysts by voting to hold its target for the Fed funds rate between zero and 0.25% yet again.
Betting in the futures market meantime put the odds of a 0.25% lift-off from that 7-year range at better than four-in-five Wednesday morning.
"I would look to buy dips on gold straight after the rate decision," says David Govett at brokers Marex Spectron, also in London, "and wait for a rally afterwards.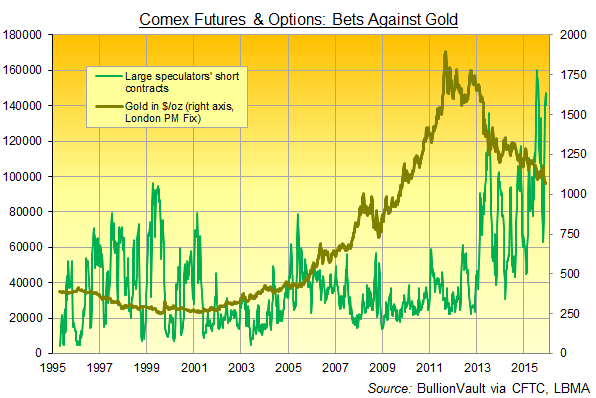 "Gold may drop in an initial reaction to a hike," agrees bullion market-maker HSBC's precious metals team.
"But as the hike is generally expected, we believe any sell-off may be relatively short-lived," it goes on echoing comments from FX analysts at bank from BNP Paribas to ICBC Standard Bank that Fed chair Janet Yellen will strike a "dovish" tone regarding 2016 rate hikes in her post-decision press conference.
"We suspect the Dollar will struggle in the wake of the Fed's decision," says a note from US brokers INTL FCStone, "and are therefore looking for a firmer tone in most commodity markets.
"Gold however could be on a different track [because while] a very dovish Fed policy statement should help, bulls should nevertheless be wary about a surging US equity market and the knock-over selling that this might generate."
Moreover, INTL FCStone's note goes on, the gold bullion market continues to lack new investment through gold ETF trust fund products, "and jewelry demand remains fairly soft" with local prices to buy gold in India – the world's largest consumer market – falling to a discount versus wholesale London quotes "as jewellers and dealers postpone purchases ahead of [the] expected hike in US rates."
"But you have to start somewhere."
"No one knows what will trigger it: maybe higher interest rates; maybe a return of the Euro crisis; maybe China or emerging markets."
With today's Fed decision and press conference not finished until well past dinner-time in London, "It's going to be a long day," complains one market-making bullion bank's sales desk in a note, adding that "the recent move by the People's Bank of China on Monday to fix the Yuan at a new low is adding more uncertainty."