Gold Tests $2000 Again Despite Muted ETF Inflows as DB Default Fears Jump
Friday, 3/24/2023 15:03
The GOLD PRICE pierced the $2000 mark for the 5th time this week Friday lunchtime in London despite muted investment inflows to gold-backed ETF products, as Western banking shares slumped yet again, led by Germany's No.1 Deutsche Bank amid the fallout from Switzerland's 'shotgun' sale of Credit Suisse to rival giant UBS.
Giant
gold ETF
the SPDR product (NYSEArca:GLD) ended Thursday night 0.5% larger from last Friday's finish, marking only its 2nd consecutive weekly inflow and growing just 2.5% so far from early-March's 2-year low.
No.2 gold ETF the iShares product (NYSEArca:IAU) saw a small outflow yesterday, trimming its week-so-far expansion to just 0.2%.
Gold bullion headed today for what would be its 2nd highest Friday finish ever in US Dollar terms above $1980, and held on track for a record weekend Euro price above €1845 per ounce.
The gold price in UK Pounds per ounce meanwhile headed for a new all-time high daily price at £1630 – well above last Friday's record £1614 – after Andrew Bailey, governor of the Bank of England, followed his call for UK workers to fight inflation by not seeking a pay-rise with a call for UK
businesses not to raise their prices
. a day after raising interest rates to 4.25% as the cost of living rises 10.4% per year.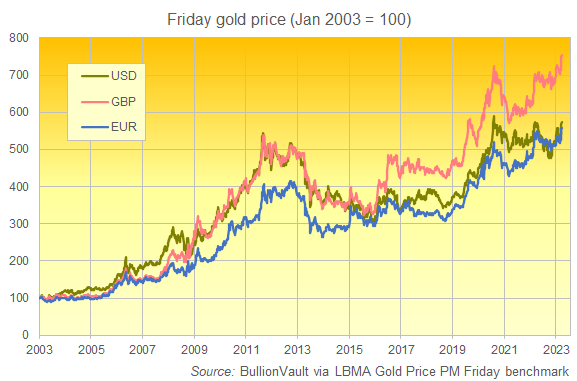 Silver prices rose further, touching $23.50 for the first time in 7 weeks, but the other industrially-useful 'white' metals of platinum and palladium both continued to hold flat as crude oil slipped towards last week's 15-month lows.
The price of government bonds, in contrast, rose yet again as banking shares pulled global stock markets lower, with troubled US lender First Republic (NYSE:FRC) down almost 90% from this time last month.
"Markets price 31% default probability for DB [subordinated] bonds and 16% for senior DB paper," says finance reporter Holger Zschäpitz at Welt.
The price of 'buffer' capital in Deutsche Bank also fell yet again, driving the yield offered to new buyers of its AT1 bonds
up above 24% per annum
– twice last week's level – after last weekend's Swiss move entirely wiped out $17bn in Credit Suisse's AT1 debt while giving shareholders 13 Rappen in the Franc, upending the
standard write-down of equity before bondholders
.
Friday's rise in government bond prices drove the annual yield offered to buyers of 2-year US Treasury bonds down to 6-month lows beneath 3.70% but left the US yield curve inverted – a widely-acknowledged
signal of recession ahead
– as 10-year rates slipped to 3.35%.
Prices to
trade gold
in China – the precious metal's No.1 consumer market – had earlier cut their premium over London quotes to $7 per ounce, the lowest incentive in a week for new bullion imports and back in line with the historic average, as the Shanghai Gold Exchange's benchmark contract ended the week at ¥440 per gram, down ¥6 from Monday's
new record China gold price
.
Over in India in contrast, "Demand has
stalled because of the spike
in prices," Reuters quotes one Kolkata wholesaler, reporting domestic discounts of $57 per ounce – twice last week's level – amid record Rupee prices for newly landed imports of INR 60,000 per grams.
"Deutsche Bank has fundamentally modernized...and is a very profitable bank," said German Chancellor Olaf Scholz to reporters Friday at the EU leaders summit in Brussels.
"There is
no cause for concern
," he said, echoed by other attendees including European Central Bank President Christine Lagarde when asked about the 19-nation currency zone's banking sector more broadly.