Gold ETF Growth Fails to Stop Price Falling $140 from All-Time High Even as Real Rates Hold at Negative Record
Thursday, 9/03/2020 14:26
GOLD PRICES fell to 1-week lows in US Dollar terms on Thursday, extending a drop that's come even as US interest rates lag the pace of inflation by a record margin, and despite repeated investor inflows to gold-backed ETF trust funds.
Twice touching $1927 in London trade today, the gold price fell as the US Dollar rose to 1-week highs on the currency market, before bouncing $10 per ounce as today's New York session began.
Asian and European stock markets meantime followed yesterday's fresh US records higher again, extending this week's rise to new all-time highs in the MSCI World Index.
With gold now $140 below the new all-time high of $2075 set 4 weeks ago, real US bond yields are meantime virtually unchanged, with the interest rate on 10-year TIPS continuing to trade at a record low of -1.08% per annum.
"We continue to see the long-term trend higher," says a trading note from Swiss bank Credit Suisse, "reinforced by falling US real yields and a falling US Dollar."
As a group worldwide,
gold ETF
trust funds – giving investors exposure to moves in the metal with no ownership – expanded for a 6th session running on Wednesday according to Bloomberg data, needing an additional 5.6 tonnes of bullion to back their shares in issue.
The giant SPDR Gold Trust (NYSEArca: GLD) shrank marginally while cheaper competitor the iShares gold ETF (NYSEArca: IAU) expanded to a new record.
More than twice the size of the IAU, the GLD has now failed to expand for 5 sessions running.
Over the 20 sessions since 6 August, when gold bullion's benchmark price peaked at $2067, the GLD has now expanded only 3 times.
Over the 20 sessions leading up to that peak, it grew on 12 trading days, leading one gold ETF promoter to say "
there's no question
...that demand is driving gold [prices] right now."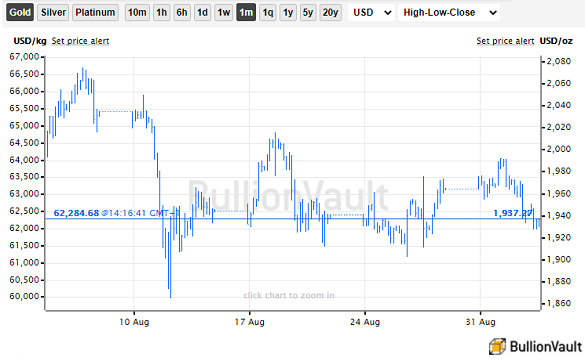 Shares in giant miner Barrick (NYSE: GOLD) are meantime flat from 4 weeks ago, closing last night at $29.61 – only 10 cents above the price of 7 August – and erasing last month's pop after legendary investor (and
long-time gold naysayer
) Warren
Buffett took a position
in the world's 2nd largest gold miner for investors in his Berkshire Hathaway (NYSE: BRK.A) conglomerate.
Like Barrick, shares in No.1 listed gold miner Newmont (NYSE: NEM) fell today in pre-market trade, sliding 3.3% below their price when gold bullion peaked.
Central banks were net sellers of gold as a group in July, according to a blog post from the mining-industry's World Gold Council, whose
data show heavy selling
from crisis-stricken Venezuela, with Russia and Mongolia trimming their holdings while Kazakhstan, India and Turkey expanded.
Crude oil meantime fell with gold prices, losing 2.5% on US benchmark WTI.