GLD and IAU Gold ETFs Expand 15th Week Running as Inflation Forecasts Rise, Real Rates Sink
Friday, 7/03/2020 14:41
GOLD ETF products rose alongside bullion prices Friday in London, putting the metal on track for its highest weekly close in Dollar terms since October 2012 as US data confirmed the resurgence of new Covid-19 cases, especially across southern states.
Asian equities rose but European stock markets fell, cutting this week's gain to 2.2% on the EuroStoxx 600 index, as June's PMI survey from the Markit data agency said service-sector activity across the 19-nation Eurozone continued to shrink last month.
Keeping wholesale bullion bars above $1775 per ounce today, heavy inflows to gold-backed ETFs coincided this week with a spike to $1800 in the most active Comex gold futures contract – the highest price since late 2011.
Trading volume in those derivatives shrank Thursday however, down by almost one-third from
Wednesday's spike
, as bond yields and inflation expectations whipped sharply for the second session running on very mixed US jobs data.
Gold has now added $300 per ounce since hitting 4-month lows in
mid-March's Covid Crash
across all financial markets.
Market-implied inflation forecasts for the next 5 years have meantime doubled, rising to 1.6% per annum after hitting the lowest since the Lehman Brothers' crash of late-2008.
Interest rates have gone in the other direction however, sinking this week to new record lows beneath 0.3% per annum on 5-year US Treasury bond yields.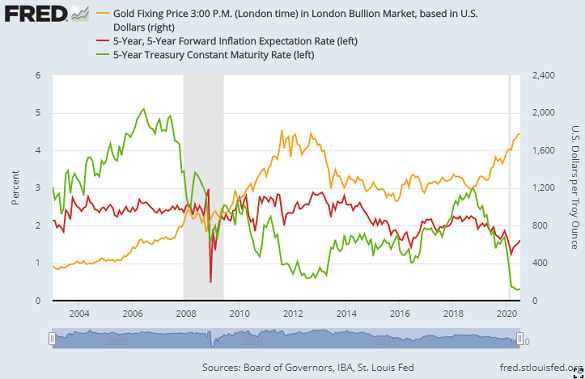 "We expect to see US real yields drop [further] into negative territory," says French investment and bullion bank Natixis, forecasting that the Federal Reserve may "officially employ Yield Curve Control (YCC) or provide further guidance" at its next policy meeting in September.
"When looking at the opportunity cost of holding gold vs. a yield-earning asset, that makes gold the more attractive investment," Natixis' analyst Bernard Dahdah goes on, saying that he "would not be surprised" by gold rising to $1950 per ounce early in 2021.
"However, inflation is unlikely to be considerably elevated (reaching a high of 2.2% in Q2 2020) hence putting a break at how low real yields can get."
Back in this week's action, "Gold shrugged off the risk-on tone seen elsewhere in the markets," says Swiss refining and finance group MKS Pamp's Asian trading desk, "with continuing concern about the worsening Covid crisis in the US and geopolitical uncertainty helping the precious edge higher."
The giant SPDR Gold Trust (NYSEArca) expanded by 0.8% yesterday, taking the quantity of bullion needed to back the value of the world's largest
gold ETF
up to 1,191 tonnes – the largest since early April 2013.
Also expanding for the 15th week in a row, competitor gold ETF the iShares product (NYSEArca: IAU) meantime expanded another 0.7% from last Friday, now needing a new record 457 tonnes of backing.
On the geopolitical front, China's Foreign Ministry and state media today noted that 53 countries have spoken at the United Nations
to back Beijing's new national security law
for the formerly 'autonomous' city of Hong Kong – led by dictatorships North Korea, Saudi Arabia and Syria – while just 27 criticized it.