Gold Price Hits $1840 as ETFs Expand, Inflation Forecasts Crush Real Interest Rates
Monday, 5/10/2021 13:27
GOLD PRICES edged higher Monday, extending last week's strong gains after the 2 largest gold-backed ETFs saw net investor inflows and the focus in financial markets turned to inflation data, with iron ore and copper prices hitting new record highs, writes Atsuko Whitehouse at BullionVault.
After rising 3 days running last week to post a 3.5% weekly increase – the biggest since November last year – the spot gold price added 0.6% to breach $1840 per ounce this morning, a new 12-week high.
The Dollar Index – a measure of the US currency's value versus its major peers – meantime dipped again after retreating for the 3rd session in row to hit 3-month lows last Friday on a much weaker-than-expected monthly US jobs report.
Longer-term interest rates stabilized, with the 10-year US Treasury yields – a benchmark rate for government as well as many finance and commercial borrowing cost – edging higher to just under 1.6% after dropping to the lowest in 2 months.
"On a macroeconomic level," says derivatives platform Saxo Bank's commodity strategist Ole Hansen, "both the Dollar and US Treasury yields
provided further support
[to the gold price] with the Greenback trading softer and nominal yields holding steady."
"The latter receiving a great deal of attention, with rising inflation focus sending 10-year breakeven rates to an eight-year high and real yields [after accounting for that inflation forecast] back down towards minus 1%."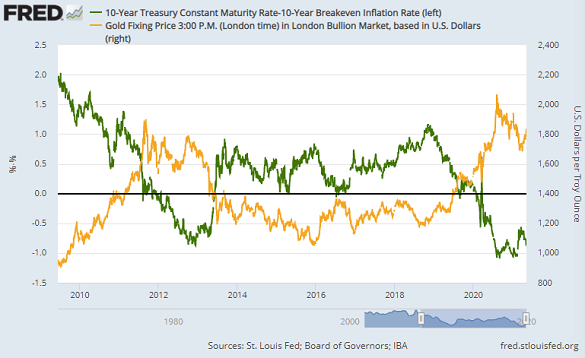 Ten-year breakeven rates, a proxy for where investors see the annual consumer-price inflation rate for the next decade, initially swooned on Friday before going on to surge to
the highest since April 2013 near 2.5%
.
Real interest rates, as shown by the yield on 10-year inflation-protected debt – and against which the price of gold shows a strong negative relationship, rising when the real returns to buying US government debt fall and vice versa – steadied at minus 0.91%, the lowest since mid-February.
Inflation data due on Wednesday is expected to show the Consumer Price Index rising for the 11th month running in April, with the year-on-year change – boosted by last April's crash in prices during the initial Covid pandemic shutdown – forecast to climb above 3.5% for the first time since 2011.
"While rising interest rates headlined in Q1, inflation now appears to be catching up,
suppressing the real component of these rates
and further pressuring the US Dollar," says a report published by the mining-industry's World Gold Council.
"Investors who shied away from gold in Q1 may now be drawn back in."
Gold-backed ETF trust funds
expanded last week, with both the SPDR Gold Trust (NYSEArca: GLD) and the iShares gold ETF (NYSEArca: IAU) seeing net investor inflows on Friday, the first such joint growth since 19th March.
The giant GLD made its second weekly expansion in 3 weeks, while the IAU made its first weekly gain in 8 weeks.
Even so, that leaves the GLD and IAU smaller by 13.7% and 5.7% so far this year respectively, although the pace was slowed in April from March.
iShares' giant silver ETF trust (NYSEArca: SLV) meantime saw 0.3% outflows last Friday, capping its 13th consecutive weekly liquidation.
Prices for silver
, primarily an industrial metal, rose as much as 1.4% to $27.82 per ounce Monday morning, after jumping 5.9% last week.
Meanwhile the price of platinum – which finds two-thirds of its demand from industrial uses, led by auto-catalysts for diesel engines – climbed 1.5% to an 11-week high at $1276 per ounce.
Platinum prices
have rallied 19% so far this year while sister metal palladium – finding over 80% of its demand from auto-catalysts for petrol vehicles – trades more than 20% higher in 2021 to date, touching new record levels last week above $3,000 per ounce.
"We have gone from China being the only story in commodities for the last 10 years to now
the rest of the world picking up the baton
and being real contributors to the demand side of the equation," the Financial Times quotes Saad Rahim, chief economist at Trafigura, one of the world's biggest independent commodity traders.
"President [Joe] Biden has now proposed two additional [US] stimulus plans on top of the one he has already passed. If any of that comes to pass you are just supercharging this whole thing."
Iron ore futures surged more than 10% to a record above $226 per tonne Monday morning, extending this year's gain to about 40%.
Copper prices, often viewed as a barometer of the global economy's health, also extended new record highs, rising 2.1% to $10,639 per tonne.
The copper price has more than doubled from its pandemic lows in March last year.
Oil prices also rose after the United States declared state of emergency last night to keep fuel flowing following the shutdown of the No.1 economy's biggest fuel pipeline due to a cyber-attack.
US West Texas Intermediate future rose 0.5% at $65.24 per barrel, after gaining more than 2% last week.
Oil prices have jumped by around 20% since the start of the year to pre-pandemic levels, helping the Bloomberg Commodity Spot index of broader natural resources prices rise for 14 of the past 15 days to the highest level in almost a decade.
European stock markets today inched higher to new record as the pan-European Stoxx600 index rose 0.1%, with miners rallying 2.6% to a 10-year-high on the back of strong commodity prices.
Euro gold prices edged higher by 0.4% to €1512 per ounce Monday lunch time.
Gold prices for UK investors edged lower by 0.4% to £1304 per ounce as the Pound touched a 10-week high as the Government moved to ease Covid restrictions in England and after regional and local
UK elections denied Scotland's main independence party
an outright majority, pushing back the risk of a new-term vote on separating from the 300-year old union.