Gold Prices 'Sturdy' at 1-Month Highs on Negative Real Rates, Record 1-Day Covid Cases Worldwide
Monday, 6/22/2020 14:55
GOLD PRICES fell $10 per ounce from a new 1-month high Monday in London, easing back as inflation expectations continues to outpace the rate of interest offered by Western government debt, and world stock markets looked torn between record stimulus and growing fears of a second wave of coronavirus infections worldwide, writes Atsuko Whitehouse at BullionVault.
Geopolitical uncertainty also increased after China's dictatorship in Beijing released details of the 'national security law' it plans to impose on the formerly 'autonomous' region of Hong Kong.
Dollar prices for gold bullion settled in London jumped to $1758 per ounce in Asian trade overnight, the highest since 18 May.
The Dollar itself – as measured on the US currency's index of value versus its major peers – meantime retreated following four consecutive days of gains.
"A major part of the move higher in gold over the past two trading days has been US real yields
heading increasingly negative
," reckons John Reade, chief market strategist at the mining industry's World Gold Council, pointing to the inflation-adjusted rate of interest offered to new buyers of 10-year Treasury bonds.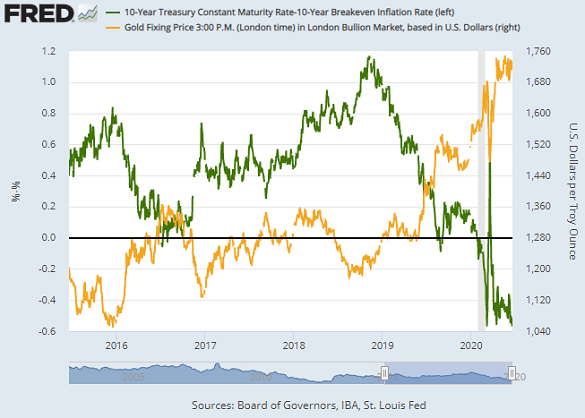 The real rate of interest offered by both 10-year and 5-year US bonds has now fallen by almost one whole percentage from this time last year, according to data from Bloomberg, costing today's buyers 0.64% and 0.77% per annum after inflation respectively.
The World Health Organization meantime reported the largest single-day increase in coronavirus cases to date on Sunday, reporting more than 183,000 new cases around the globe over the prior 24 hours.
Brazil accounted for 54,771 of that daily total, followed by the US with 36,617 and India with more than 15,400.
With investment inflows to
gold-backed ETF products
since New Year already exceeding any prior calendar year, hedge funds and other leveraged speculators in Comex gold futures and options also raised their bullish betting on gold as a group in the last week.
After cutting their total number of bullish bets for 3 weeks in a row to 55% below February's peak, the so-called 'Managed Money' category also cut their bearish betting over the 7 days ending last Tuesday after raising it for 6 weeks running, according to the weekly data published by US regulator the Commodities Futures Trading Commission (CFTC).
Overall, that pushed the net long position of Managed Money traders to the highest in 3 weeks, recovering from the smallest in 12 months.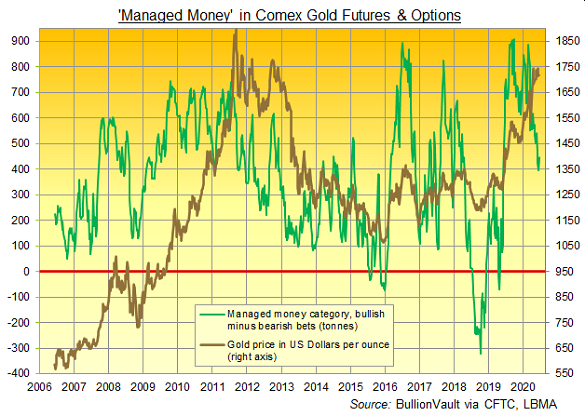 The speculative money also raised net bullish bettings on silver prices to a 3-week high the CFTC data show.
"Our view is that the weight of monetary-supply expansion is going to ultimately be debasing to the Dollar, reckons Lisa Shalett, chief investment officer for wealth management at US finance group Morgan Stanley (NYSE: MS).
"The Fed commitments [to low rates and QE bond buying]
are anchoring real rates
, to make the case for gold pretty sturdy."
Nine private banks running some $9 trillion of client assets have advised raising allocations to gold, and Morgan Stanley added a 5% position to commodities including gold in all its models at the end of March.
Competitor group Goldman Sachs (NYSE: GS) on Friday raised its three, six and 12-month gold price estimates by around $200 each to $1800, $1900 and $2000 per ounce.
Gold prices for European investors meantime dipped 0.3% to €1560 per ounce on Monday after also jumping to 1-month highs as Eurozone bond prices rose, pushing yields further below zero, reportedly on hopes that the appointment of a new court president and judge at Germany's constitutional court in Karlsruhe
could reduce its Eurosceptic majority
, leading to less confrontation with the 19-nation European Central Bank
over its QE bond buying policies
.
UK gold prices edged lower by 0.1% to £1411 per ounce after also hitting 1-month highs as new Bank of England governor Andrew Bailey said on Monday that the central bank should start to reverse its quantitative easing asset purchases before raising interest rates, up-ending the BoE's long-standing position.
As for other precious metals, silver rose 1.36% to $17.87 per ounce, pushing the Gold/Silver ratio of the two formerly monetary metals' relative prices just below 98, the lowest in one week.