Gold Price Slips, Silver Tops $25 Ahead of Fed as China's 'Fast Growth' Spurs Copper Inflation, Ruffer Joins 'Crowded' Bitcoin Trade
Wednesday, 12/16/2020 13:54
GOLD PRICES sank $15 per ounce from new 1-week highs in London trade Wednesday, dropping as the US Dollar rallied from new multi-year lows and world stock markets continued to rise ahead of today's monetary policy decision from the US Federal Reserve.
Already holding overnight interest rates back at 0% after hiking from that level to 2.5% between 2016 and mid-2019, the Fed is currently buying $80 billion per month of federal debt plus $40bn of mortgage-backed bonds, while extending $2.3 trillion of loan support to non-federal borrowers including state and local governments and private corporations.
Base metal copper meantime reached new 7-year highs,
rising above $7,800 per tonne
on 3-month futures at the London Metal Exchange for the first time since March 2013 – eve of the 'taper tantrum' across financial markets which saw gold crash at the fastest pace in 3 decades.
Today's rise in LME prices pulled the ratio of copper to gold prices up to 4.2 ounces of the precious metal per tonne of the base metal. That means copper has now erased all of this year's slump to multi-decade lows versus gold, which now finds less than 10% of its end-use demand from industry or technology.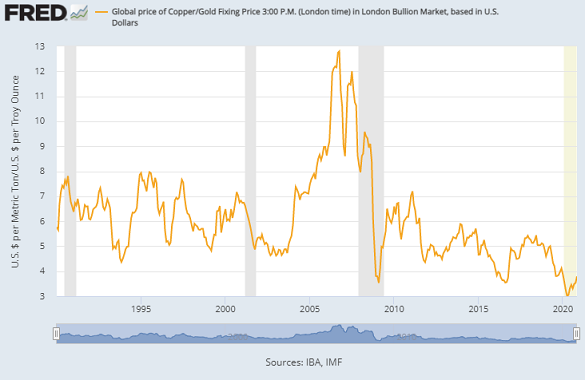 China's economic recovery will be "relatively fast" in 2021 says official data agency spokesman Fu Linghui at the NBS.
European crude oil prices held above $50 per barrel, the highest since March's Covid Crash briefly took US oil prices negative as the collapse in commuting, travel and airfreight – plus a
price war between Saudi Arabia and Russia
– saw storage facilities overwhelmed by excess supply.
Annual inflation rates implied by US bond prices today rose to 1.93% for the next 10 years, a fresh 18-month high and almost 4 times the pace at March's Covid Crash low.
That took the real rate of interest offered by 10-year debt back below -1.00% per annum.
"Inflation staying low and well-behaved is the foundation on which everything in markets is currently priced," reckons Karen Ward, chief market strategist for Europe at the asset management division of US investment bank J.P.Morgan.
"Investors' assumption is that central banks will be able to stay accommodative well into the economic recovery. If inflation
picks up in a way that's not expected
, that would challenge the market's entire view."
"With real rates so low there's really no big opportunity cost to having gold," says Swiss bank UBS wealth manager Jason Katz.
Crypto-currency Bitcoin also offers "a small but potent insurance policy against the continuing devaluation of the world's major currencies," says London-based fund manager Ruffer, putting 2.5% of its multi-strategy fund into the so-called 'digital asset' after it rose more than 40% last month to new all-time highs.
Contrary to earlier reports, that position is worth some $15m.
Ruffer's gold mining-stock fund has meantime risen 41.5% this year, almost matching last year's gains and swelling to £818m ($1.1bn).
Bitcoin is rising on the list of "most crowded trades" in the fund-manager survey from Bank of America, while investors are also the most bullish on stocks and bonds since February 2011 with the smallest holdings of cash since May 2013.