Gold Price 'Certainly Set for $2400' as Banking Woes Hit Crude Oil and Copper
Tuesday, 5/09/2023 15:15
GOLD PRICES edged higher on Tuesday but stock markets, commodities and bond prices fell, edging longer-term borrowing costs higher, ahead of tomorrow's US inflation data.
After yesterday's Loan Officer survey from the Federal Reserve showed
US banks tightening lending conditions
and fearing an economic recession ahead, Wednesday will bring US cost-of-living data for April, widely seen as boosting the case for further Fed rate hikes if inflation doesn't slow.
Now trading at $2029 per ounce, gold last Thursday set its 4th highest ever London PM benchmark price, fixing $3.75 per ounce below mid-March's near-record peak of $2048.45, set when US
regional bank SVB collapsed
.
With industrial commodities falling, last Thursday also saw
the Copper/Gold Ratio
– often judged to be
a 'greed/fear' indicator
because of the base metal's vital role in economic production versus gold's primary use as a store of value – drop to its lowest since December 2020, back when gold fell hard from its record-high Covid Crisis peak on news of Pfizer developing a successful vaccine.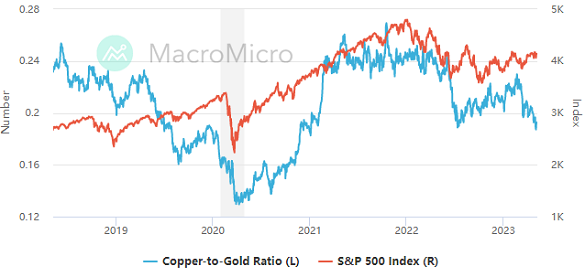 With the broad S&P500 index now trading 3.7% higher from this time a year ago,
S&P Global's banking subindex
has dropped more than 30% while the tech-stock subindex has gained 8.3%.
"The CEO and the director should suffer" when a bank fails, said legendary US investor Warren Buffett at the weekend's shareholder meeting for Berkshire Hathaway, where the conglomerate reported a
12% rise in Q1 operating earnings
.
CEO of failed Swiss giant Credit Suisse
Ulrich Körner will join UBS' executive board
following its $3.25bn takeover, the newly integrated business announced Monday, taking "responsible for ensuring Credit Suisse's operational continuity and client focus."
While shareholders in UBS got around 40 cents in the Franc through the government-driven UBS purchase, creditors lending it CHF 16bn in
"additional Tier 1" capital were wiped out
in a move which shocked banking analysts and regulators in other countries.
Down $10 from this time a month ago, WTI last week bottomed $10 below today's level at the cheapest since November 2021 and barely half the peak of March 2022 when Russia began its invasion of Ukraine.
Improving economic growth in China plus new oil-output cuts from the Opec cartel of producer nations
should stabilize the crude price
reckons Daniel Hynes, senior commodity strategist at Australasian banking group ANZ, speaking to Bloomberg overnight.
For gold, "I suspect we'll see a record high reached in the not-too distant future as [financial crisis] risks play out."
Gold prices today hit
a new record high in Pakistani Rupees
, rising 1.4% to Rs230,100 per tola according to the All Pakistan Sarafa Gems and Jewellers Association (APSGJA), as former prime minister
Imran Khan was arrested
on money-laundering charges in the so-called Al-Qadir Trust case while attending a hearing at the Islamabad High Court.
For Dollar gold prices, "We certainly think [gold]
will go to $2400
an ounce," says US financial giant Citi Group's commodity global head Edward Morse.
"But we have to remind investors that this is a choppy road, and they need patience."