Gold Prices 'Stuck in Summer Doldrums' After Comex Bulls Cut by 1/3rd Following the Fed
Monday, 6/28/2021 14:23
GOLD PRICES traded in a narrow range Monday as the market lacked a trigger to escape its summer doldrums after plunging on the US Fed's latest interest-rate forecasts and speculators cut their bullish betting on Comex futures and options by the most in 2 years, writes Atsuko Whitehouse at BullionVault.
Spot gold prices struggled inside a $15 per ounce range after falling 0.6% to a new 1-week low of $1770 Monday morning.
The precious metal rose 0.9% last week, recovering some of the prior week's 6% drop with its first weekly gain of June.
"The [Fed forecast] plunge was so big that there was very little trigger to move out from here."
Latest data show that, following the US central bank's signal of earlier-than-expected rate hikes for 2022 or 2023, hedge funds and other leveraged speculators in Comex gold futures and options cut their bullish betting and grew their bearish betting for a second week in a row as a group in the week-ending last Tuesday, 22 June.
Overall, that pushed the net long position of Managed Money traders down by 33% – its steepest drop in 25 months – to the smallest in 7 weeks.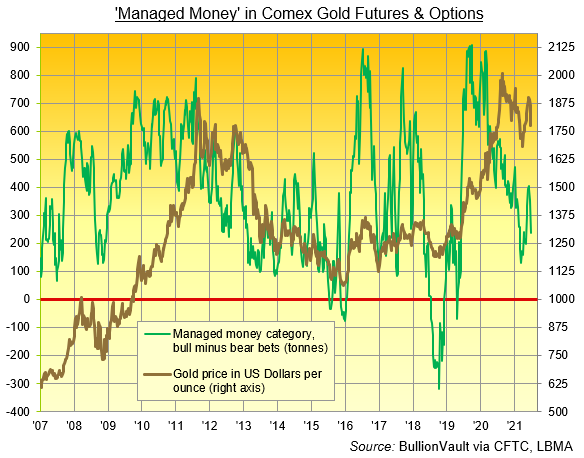 "The latest report revealed a significant liquidation of net long positions and the price plunged as a result," says Ikemizu.
"The fact that the price has not fallen further from that level suggests that the peak in adjusting positions and placing new bearish bets has now passed among speculators."
Speculators also shrank their net bullish betting against silver by 36% p – the steepest cut in 15 months – to a 10-week low according to the data published by US regulator the Commodities Futures Trading Commission (CFTC).
Prices for silver, primary an industrial metal, edged lower by 0.3% Monday lunchtime in London to reach $26.04 per ounce, extending last week's 1.2% fall.
"Platinum group metals remain well supported, as fears of new export taxes on Russia hang over the market," said Daniel Hynes, senior commodity strategist at Australasian bank ANZ.
Russia's Norilsk Nickel is the world's largest palladium producer, as well as a major producer of platinum.
Citing the surge in global inflation data, Russian Prime Minister Mikhail Mishustin on Friday
signed a decree
introducing export duties on ferrous metals such as steel and also non-ferrous metals from August 1 until December 31, 2021.
West Texas Intermediate Crude Oil futures fluctuated Monday around $74 per a barrel, the fresh 2.5-year high reached last Friday, before a meeting this week of the Opec+ cartel to discuss relaxing production curbs to meet pent-up demand for fuel.
European stock markets were lower meantime, following mixed Asia-Pacific action as investors monitored rising Covid-19 cases around the globe.
The World Health Organization on Friday urged fully vaccinated people to
continue to wear masks
as the highly contagious delta variant of Covid-19 spreads rapidly throughout the globe.
Malaysia extended a nationwide lockdown which had been due to end Monday, while Australia placed millions of people under restrictions, including a 48-hour lockdown from Sunday in Darwin and another already underway in Sydney.
Ten-year US Treasury yields – a benchmark rate for government as well as many finance and commercial borrowing cost – eased slightly but held above 1.50%, the level reached Friday after core PCE inflation data showed a 3.4% year-on-year for May,
the fastest pace in 29 years
.
The Dollar Index – a measure of the US currency's value versus its major peers – steadied after dropping 0.5% last week, as currency markets focus started shifting towards key US payrolls data coming this Friday.