Gold Bullion Prices 'Stuck in Range' Before US Fed Rate Cut, Market Bets 77% 'No Change' in December
Wednesday, 10/30/2019 13:55
GOLD BULLION held little changed Wednesday morning ahead of the US Federal Reserve's October decision on Dollar interest rates and QE asset purchases, trading at $1491 per ounce as world stock markets also moved sideways.
The price of gold bullion for both Euro and UK investors also held flat after recovering yesterday's dip, trading at €1343 and £1160 respectively as Westminster confirmed
a snap general election
for 12 December, aiming to break Parliament's deadlock over Brexit but without unity on the issue among either the ruling Conservative or opposition Labour parties.
Spain's Ibex stock index fell 1.4% on a drop in banking giant Santander (BME: SAN) after it reported a 75% drop in third-quarter profits, blaming Brexit uncertainty in the UK.
Major government bond prices meantime edged higher ahead of the US Fed's policy announcement, pulling longer-term interest rates lower again from Monday's 5-week highs.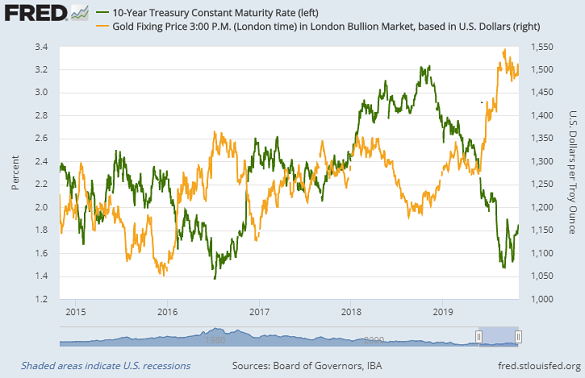 "The [gold] market is very range-bound with the FOMC around the corner," Reuters quotes Australian refiner and retailer ABC Bullion's Nicholas Frappell.
"Jerome Powell may be getting ready to pause this year's monetary easing campaign," reckons a Bloomberg column.
While betting on today's Fed decision sees a 97.3% chance of a rate cut – well over twice the likelihood forecast this time last month –
fully 77% of speculative bets
then see the Fed holding unchanged at December's meeting.
The odds of Fed rates ending 2019 two cuts lower from this morning's 2.00% ceiling have sunk to 1-in-5, data from the CME derivatives exchange suggests, down from more than 3 times that level in mid-August.
Giant gold-backed ETF the SPDR Gold Trust (NYSEArca: GLD) yesterday saw net investor liquidation equal to 1 tonne of bullion, cutting the total quantity backing the GLD's stock-market value to a 5-week low of 917 tonnes.
That's still larger by 21.5% from the GLD's size this time last year.
The lower-cost iShares gold ETF (NYSEArca: IAU) meantime held unchanged in size Wednesday, needing a record 356 tonnes of bullion backing for its trust-fund shareholders – a rise of 30.9% from end-October 2018.
Over in India, last week's Diwali gold demand was "definitely much better than the start of the season with the Puja holidays," says World Gold Council director P.R.Somasundaram, speaking to CNBC TV-18.
"Stiff prices were always knew
were going to be a headwind
...but [the Hindu calendar] now brings more auspicious days [for weddings] and consumers have now got used to these price levels [after] a couple of months."
Consumers choosing to "club together wedding-season sales with festive sales" may explain why
some Indian jewelers are reporting 10-15% growth
in Diwali gold demand, says Chirag Sheth, senior research consultant at independent agency Metals Focus.
"Just like the income tax amnesty scheme," says Indian media – pointing to so-far failed income declaration schemes (IDS) and linking the proposal to last year's Niti Aayog report urging a comprehensive gold policy for the world's No.2 consumer nation – "this gold amnesty scheme will be open for a definite time period and people caught with gold without proper bills will have to pay heavy tax."
"There isn't any great credibility to these stories," says the WGC's Somasundaram.
Government think-tank Niti Aayog
didn't include an "amnesty"
for undeclared gold jewelry or bullion holdings in its 200-page February 2018 report.
Only one of Niti Aayog's gold proposals has so far been implemented, with Narendra Modi's BJP marking its re-election this summer by equalizing import duties on both unrefined doré and bullion bars – helping close an "arbitrage" gap for unscrupulous traders – albeit at a record-high level 12.5%.