Gold Bullion 'Targets $80 Drop' as GLD Shrinks, SLV Grows on Silver's 16-Month Price Lows
Tuesday, 7/11/2017 13:49
GOLD BULLION on Tuesday halved last night's $10 per ounce recovery from 4-month lows against a rallying US Dollar, trading at $1210 as major government bond prices fell again, pushing up longer-term interest rates.
Commodities reversed yesterday's gains as European stock markets slipped, but Asian equities ended Tuesday higher after provisional data said new machine-tool orders in Japan jumped 31% in June from the same month last year.
Industrial output in Italy
– the Eurozone's third largest economy, which escaped a fourth year of recession in 2016 – grew 2.8% annually in May, outpacing analyst forecasts.
Silver tracked the rally in gold bullion meantime, recovering last week's closing level of $15.60 per ounce after touching the lowest since April 2016.
"Global growth continues to improve modestly, inflation is closer to central bank targets, and financial stability seems much improved," says a G10 currency strategy note from Chinese-owned investment and bullion bank ICBC Standard's Steven Barrow today.
"These conditions are prompting other central banks to look at normalising monetary policy in the same way that we have seen in the US."
Flipping the pattern's peak-to-neckline, "The setup points towards a move to $1133," predicts Citi.
As gold prices fell for the 8th session in 10 on Monday, shareholders in the SPDR Gold Trust (NYSEArca:GLD) liquidated another 0.4% of the giant gold-backed ETF.
That cut the quantity of bullion needed to back the GLD's value by 3 tonnes to the smallest size since end-March, down near 832 tonnes.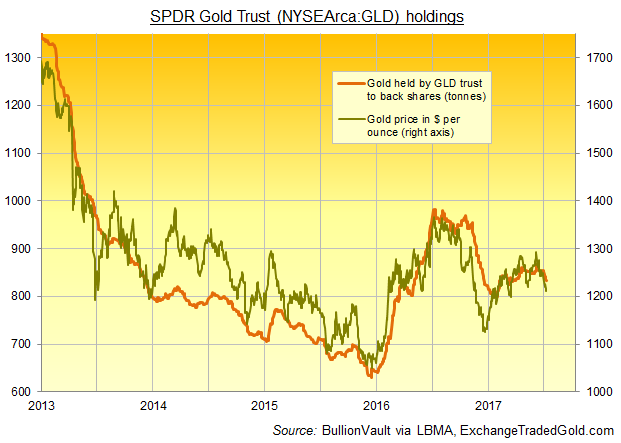 In contrast to gold's largest ETF, shareholdings in the
iShares Silver Trust
(NYSEArca:SLV) grew on Monday, expanding as the cheaper metal fell for the third session running.
That took the quantity of silver bullion needed to back the SLV up 0.9% to 10,720 tonnes – the largest since last December saw prices retreat to what were then 8-month lows at $15.65 per ounce.
Hedge funds trading Comex silver futures and options switched their betting to very nearly a net bearish position last week, latest data say.
Over 35% of gold-backed GLD shareholders are 'institutional investors' according to
data from Nasdaq.com
.
For the SLV silver ETF, that figure is just 15.6%.
"Another wild session for silver," says one bullion trading desk in a note.
For gold, the Shanghai premium over London quotes "[has] provided some support," adds Swiss refiner MKS Pamp, "but flows limited."
That held the incentive for new imports from London at $9.50 per ounce, some 20% below Shanghai's average premium of the last 12 months.