Gold Bullion Rises with Stocks and Bonds as US Gets $2 Trillion Virus Relief, ECB QE Goes 'Turbo'
Thursday, 3/26/2020 14:37
GOLD BULLION rose alongside Western stock markets and bond prices on Thursday, nearing 2-week highs at $1636 per ounce after the European Central Bank announced "no limits" on its QE purchases of Euro-nation debt and the United States reported its fastest-ever jump in new claims for jobless benefits as the global coronavirus pandemic worsened.
Vowing to "explore all options and all contingencies to support the economy to counter this extraordinary shock," the ECB today started its €750 billion ($820bn) pandemic emergency program by saying it
can now buy more than 33%
of any Euro nation's government bonds or 50% of jointly-issued debt, a move that
"turbo charges" its quantitative easing
across the currency union according to finance paper
Il Sole 24 Ore
in Milan.
Euro government bond prices jumped as investors bought weaker-economy debt, driving longer-term interest rates lower for Italy and Spain, now the worst affected countries worldwide for Covid-19, each overtaking China.
That pulled the BTP-Bund spread of Italian over benchmark German Bund yields down to 3-week lows at 1.7 percentage points.
European stock markets meantime rallied to erase an earlier 1.7% loss – and Wall Street jumped again at the New York opening – after the US Senate approved the Trump White House's coronavirus relief bill, a $2 trillion stimulus package aimed at households and business.
Over 3.2 million people filed last week for US jobless income support, the Department of Labor said today, more than 3 times the figure analysts expected and the highest in the benefit's 5-decade history.
It fell to a new half-century low only last month.
Over 1.8m people also continued ongoing claims the previous week, today's data said – the highest number in nearly 2 years.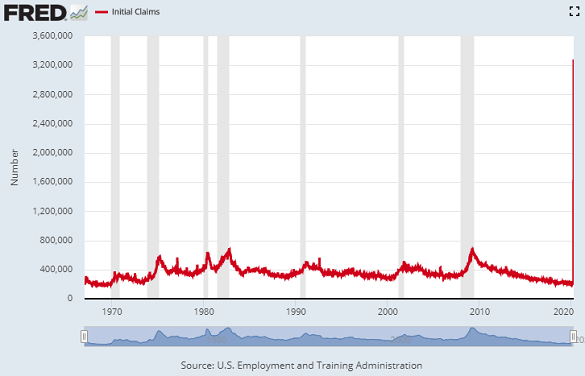 Italy today reported a sharp rebound in the number of newly confirmed Covid-19 cases, with the worst-hit region
Lombardy adding 2,500 alone
.
"This health emergency will not cause any liquidity problems" for the No.3 Eurozone economy's state pensions and benefits, said Pasquale Tridico, head of the social security system.
"INPS is managing an extraordinary package with 16 protection measures worth over €10 billion for 11 million citizens."
Spain meantime extended its national state of emergency for a further 2 weeks after reporting 655 new deaths for Wednesday, taking the No.4 Euro economy's toll above 4,000.
Ahead of the crisis and shutdowns, data from the ECB today said bank lending to non-financial corporations
slowed to 3.0% annual growth
last month across the 19-nation currency union. Household borrowing accelerated to 3.8% growth.
The gold price in Euros today held at €1485 – a new all-time high when first reached 5 weeks ago – while the UK gold price in Pounds per ounce steadied above £1350.
That put bullion for UK investors some 2.5% below Wednesday's fresh record top, as the Bank of England kept its key lending rate at the new record low of 0.1%, plus the additional £200bn of new QE bond purchases also agreed at last week's emergency meeting – equal to nearly 10% of the world No.5 economy's 2019 GDP.
Silver today held at $14.25 per ounce, erasing last week's drop, and platinum regained a near-$50 plunge to rally back to $745 in early afternoon London trade.
With China meantime easing lockdown restrictions in the novel coronavirus' source of Wuhan, Hubei province, "the city now
needs to be really careful
to avoid prematurely lifting physical distancing measures," reckons London School of Hygiene & Tropical Medicine specialist Kiesha Prem, "because that could lead to an earlier secondary peak in cases."
Chinese news-site The Paper says one early victim of the disease, falling ill in mid-December, ran a stall selling live shrimp in Wuhan's "wet market".