Gold Bullion Slips Despite US-China Tensions as Fed's Powell Speaks on Inflation, Interest Rates
Tuesday, 3/07/2023 14:00
GOLD BULLION fell to 3-session lows in London trade Tuesday, edging below $1840 per ounce as global stock markets flat-lined and commodity prices fell ahead of today's testimony to lawmakers in Washington on US monetary policy from Federal Reserve chair Jerome Powell.
With Western-backed Ukraine meantime "doubling down" on defending the strategically unimportant and now devastated town of Bakhmut from Russia's increasingly fractious invaders, US-China tensions worsened as China's president Xi Jinping made a rare direct attack on Washington's foreign policy in a speech to this year's 'Two Sessions' congress of the Communist dictatorship.
The Dollar steadied below late-February's 3-month highs on its trade-weighted index while major government bond prices ticked higher, nudging longer-term borrowing costs further below last week's multi-year highs.
Betting on a Fed hike
of 0.5 points at this month's meeting meantime eased back from yesterday's peak, putting the odds at 27.7% from Monday's reading of 31.4% and leaving the most likely outcome as a quarter-point rise. But that rise in the Fed Funds' ceiling rate to 5.00% per annum won't be the last according to the vast bulk of betting on future decisions.
More than 9-in-10 bets on December's Fed meeting now predict an end-year level of 5.25% or higher, and 1-in-3 of all bets forecasts a full 1 percentage point rise or more from today's level to 5.75%.
That would be the highest nominal Fed interest rate since New Year 2001, midway through the DotCom Crash in US and global technology stocks.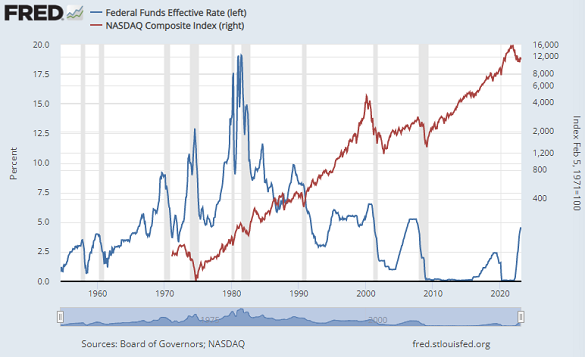 "If we want to bring inflation back to 2% in the foreseeable future, we have to take restrictive action," says Austria's central-bank chief Robert Holzmann in a new interview today, calling for his fellow voting members at the 19-nation European Central Bank to hike Eurozone rates by
0.5 points four times in 2023
.
With UK inflation continuing to run at double-digits, returning it immediately to the Bank of England's 2.0% target would
require Bank Rate jumping to 30%
per annum according to analysis in a speech late last month from BoE policymaker Silvana Tenreyro.
Premiums for gold bullion landed in Shanghai versus London quotes meantime slipped to the lowest in almost 2 weeks, but remained 4 times above the typical incentive for new imports into the precious metal's No.1 consumer market at $32 per ounce.
"Western countries led by the United States have
contained, encircled and suppressed
us," said China's President Xi to business leaders in Beijing overnight, "bringing unprecedented challenges to our development" which they must help "fight".
After averaging a record-high $1800 per ounce last year
despite bond yields jumping
the fastest since at least WW2, "The new trendline suggests gold is
likely to be more reactive
to changes in [bond] yields than it was in 2022," says a note from analysts at US investment bank Morgan Stanley, adding that central-bank bullion purchases – reported by the mining industry's World Gold Council to have
continued at a strong pace
this New Year – "may slow down, but jewelry and technology demand could see a boost from China's reopening."