Gold Bars Back Above $1900 as China Hoards 'Strategic' Resources, Beijing Excludes Mongols from 'Shared Vision for Humanity'
Wednesday, 10/14/2020 14:46
GOLD BARS traded in London – heart of the precious metal's wholesale and investment market – rose back above $1900 per ounce on Wednesday as global interest rates ticked lower, commodity prices rose, and stock markets retreated again from the last week's near-record levels.
After China's stock market
topped US$10 trillion by value
for the first time since its 2015 crash on Monday, the S&P500 index of US equities slipped 0.6% overnight from its second-highest ever close as Congress continued to argue over a Covid stimulus deal ahead of next month's White House election.
The Shanghai Shenzhen CSI 300 Index today slipped another 0.6%, while Europe's EurosStoxx Index again struggled below the 350-point mark – a 3-month high when reached in early June, but still 14% below February's record top from the eve of the Covid-19 pandemic – as a survey of economists downgraded Germany's GDP outlook to a 5.4% drop in 2020 followed by only 4.7% growth in 2021, while yet more social and business restrictions were re-imposed to try limiting the second wave of Covid-19 across the region.
Gold bars traded in Shanghai – the only legal entry-point for bullion into private circulation into China, the metal's largest consumer market since 2013 – meantime held today at a discount to London prices equal to $37 per ounce.
Better than the record $100 discount seen during the first global wave of Covid-19 infections and economic shutdowns – and created because gold is still deemed a "strategic metal" by Beijing's dictatorship, and so
gold bar exports are banned
– that contrasts with the average $9 premium to London which incentivized new imports before 2020.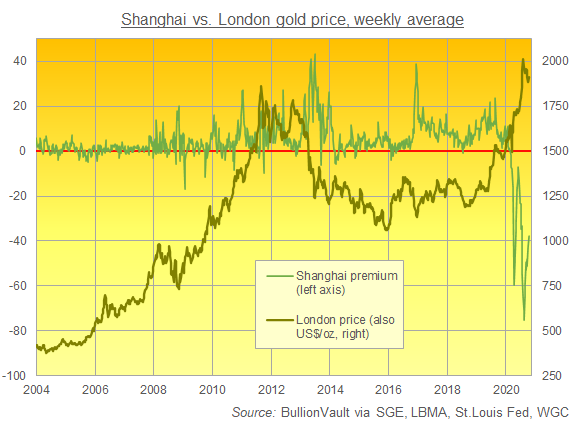 "The world economy is facing many complex challenges," said China's President Xi Jinping in a speech today marking the 40th anniversary of the Special Economoc Zone in former fishing village Shenzhen – now the 5th largest city in Asia-Pacific by economic activity.
"We must not be intimidated by headwinds and undertow," said Xi, referring to US President Trump's tech and trade wars, and urging further innovation and development in the metropolis of 12.5 million people, home to telecoms manufacturer Huawei, internet giant TenCent, auto-and-smartphone maker BYD, plus 59% of all gold bar deliveries from the Shanghai Gold Exchange, to feed
Shenzhen's huge jewelry-manufacturing industry
.
"We must stand on the right side of history to unswervingly expand opening-up, to promote an open world economy, and promote the building of a community with
a shared future for humanity
."
Like wholesale gold bar prices, silver bullion rose Wednesday to recover half this week's earlier plunge, trading back at $24.50 per ounce after dipping through $24 early yesterday.
Copper prices also rose Wednesday, gaining 0.5% and approaching last month's 2-year highs – up 45% from March's Covid Crash low – as a strike loomed over wages at Chile's giant Escondida mine, and rumors from Beijing sources said China will spend $900bn by 2026 on its copper-intensive power grid.
"China's next five-year plan beginning in 2021," says Bloomberg today, again quoting un-named officials, "will [also] call for increases to its mammoth state reserves of crude, strategic metals and farm goods."
Lacking a legal route to sell China's excess gold supply onto the world market, bullion smuggling meantime continues to make headlines in Hong Kong's
South China Morning Post
, with customs officials today hailing a 4-week crackdown –
nicknamed 'Operation Melter'
– for seizing US$4.5m of gold bars hidden in trucks as well as carried personally by their drivers coming across from Shenzhen.