Gold Bars Hit Post-Trump High as Fed Fears Inflation, LME 'Cuts Deal' with Bullion Trading Banks
Thursday, 2/23/2017 15:07
GOLD BARS traded in London's wholesale bullion bank market rose to new post-Trump victory highs on Thursday, while the Dollar fell after yesterday's notes from the Federal Reserve showed the US central bank worried about inflation at its last policy meeting, yet failed to raise interest rates in response.
"Many participants expressed the view that it might be appropriate to raise the federal funds rate again fairly soon," said
minutes from the Fed meeting
ending 1st February, but only "if incoming information on the labor market and inflation was in line with or stronger than their current expectations."
The price of wholesale gold bars today touch $1247 per ounce as the Dollar retreated further from Wednesday's 6-week highs on the currency market.
Silver bullion also jumped, matching gold's 1% gain for the week so far to touch $18.18 per ounce, also its highest price since Donald Trump was declared the winner of November 2016's US presidential election.
The Euro currency meantime rallied, halving the week's losses from Wednesday's pre-Fed drop against the Dollar, after new
GDP data showed Germany overtaking the UK
to become the developed-world's fastest-growing major economy for 2016, expanding by 1.9% per year.
Commodities also gained as the Dollar fell, with Brent crude oil gaining 2% to near January's 18-month highs above $57 per barrel.
Trading revenues from commodities sank 7% in 2016 to an 11-year low of $4.3 billion for the 12 largest investment banks, a report from analytics firm Coalition said Thursday.
"Metals ended the period flat with some improvement in precious metals."
A division of Industrial and Commercial Bank of China Ltd (HKG:1398), ICBC Standard then replaced Barclays as a member of
London bullion's "clearing" group
, alongside fellow vault-operating banks HSBC (LON:HSBA) and J.P.Morgan (NYSE:JPM) plus Swiss bank UBS (VTX:UBSG) and Canada-based Scotiabank (TSE:BNS).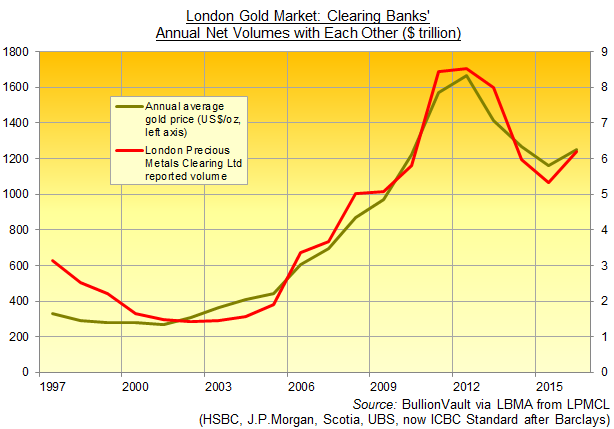 London's bullion market – heart of the world's wholesale trade in gold, silver and platinum bars – remains an "over the counter" market, where buyers and sellers deal directly with each other, rather than through standardized contracts administered and cleared by a third-party exchange venue.
Amid industry comment that the bullion business will stay this way – both because of costs and because
liquidity goes where liquidity already exists
– trading exchange the LME has apparently agreed a deal with 5 banks, including ICBC Standard, to reward them for getting their clients to use its new London gold futures contract, due for launch in June.
The four other banks are market-making members of the London bullion market Morgan Stanley (NYSE:MS), Goldman Sachs (NYSE:GS) and Societe Generale (EPA:GLE), plus French bullion bank Natixis (EPA:KN).
Incorporated last August
by mining-backed market-development organisation the World Gold Council, the banks' new business, EOS Precious Metals, will split revenues from the LME's forthcoming gold futures contract 50-50 with the Hong Kong-owned exchange, according to sources quoted by Reuters.
Competitor exchange ICE – now administering the daily LBMA Gold Price benchmark – last month launched a daily gold futures contract which has as yet seen zero volume.
ICE will next month add the option of central clearing to
the LBMA Gold Price process
, enabling buyers and sellers of its new futures contract to trade without any existing relationship with another participant of the auction.
Another competitor, the New York-based CME – which already operates the successful Comex gold futures exchange – said in November it
would also launch
a London contract early in 2017.
Shares in HSBC meantime fell again Thursday, taking the bank's drop since it reported a surprise pre-tax loss for the fourth-quarter of 2016 on Tuesday to 7.5%.
For
31 December 2016
, HSBC reported bullion holdings worth $15 billion, 34% larger by value from the end of 2015 and likely spread across bars of gold, silver, platinum and other precious metals.