China's Demand to Buy Gold 'Gets Voice' as Shanghai Fix Starts, Silver Jumps 5%
Tuesday, 4/19/2016 14:27
BUY GOLD prices in the wholesale market hit 4-session highs above $1250 per ounce Tuesday lunchtime in London, building on strong overnight gains starting when China's Shanghai Gold Exchange held its first-ever afternoon benchmarking auction.
The price of silver meantime leapt almost 5%, hitting its highest Dollar level since May 2015 above $17 per ounce, as commodities bounced hard and Western stock markets rose once more.
"Chinese demand to buy gold
struggles to move the international price
," said state newspaper
The China Daily
, leaving "domestic investors, consumers and miners, retailers to follow the European market" rather than help set prices.
Built from demand and supply to buy gold gathered together by 12 banks and 5 other players, the SGE's first afternoon benchmark in Yuan fixed Tuesday at CNY257.29 per gram at 2.15pm in Shanghai.
Equivalent to more than $1236 per ounce, that showed a small premium to international spot-market mid-prices of $0.20 per ounce.
The auction coincided with a small blip in global prices, marking the start of Tuesday's sharp 1.7% rise in Dollar terms.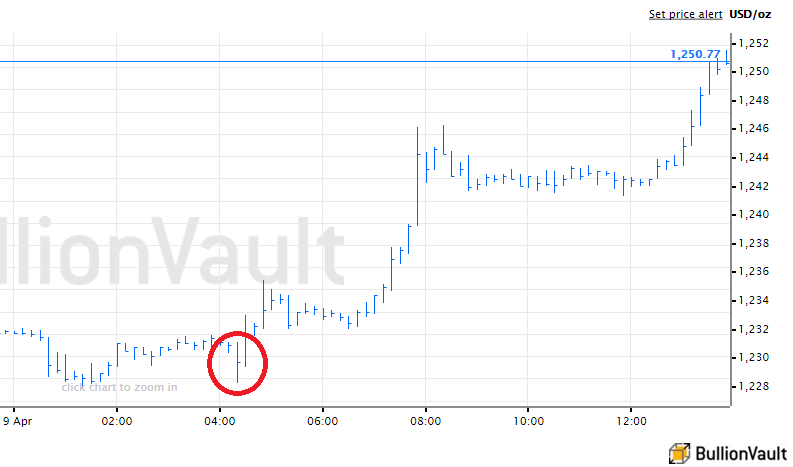 Trading volume in Shanghai's main spot contract meantime fell to an 8-session low, down by almost one-third from Monday's total.
Rising in Yuan terms, the price of that Au(T+D) contract then ended Tuesday trade at a $3 premium to global quotes, as the Chinese price outstripped the jump in Dollar prices to buy gold.
"The price is in accordance with
China's standard .9999 fine kilobars
," explains Jiang Shu, chief analyst for Shandong Gold Financial Holding Co., a subsidiary of the giant state-owned Shandong mining and processing group, "to better reflect market supply and demand in China, rather than the international movement.
"The new benchmark isn't intended to follow price fluctuations in London or New York. The more important issue is China's voice in gold pricing."
"As long as it exists inside a closed monetary system," agrees French investment bank and bullion market maker Societe Generale's analyst Robin Bhar to Bloomberg, the new China Gold Fix "will have limited global repercussions."
China is the world's heaviest importer of gold, but exports of bullion – back onto tradable markets elsewhere –
are banned
.
"For a truly efficient benchmark," says Bhar, "the market has to be as unimpeded and unfettered as possible."
The surge in
silver prices
meantime pushed the Gold/Silver Ratio of relative prices down to its lowest level since November at 73.7 and sharply below February's near-decade highs above 80 ounces of silver per 1 ounce of gold.
"Silver looks poised to grind higher towards 18.50," reckons a new chart note from Bhar's technical analysis colleagues at SocGen, pointing to several factors "but not least the projected target" from the inverted Head and Shoulder pattern which the metal "confirmed [by] breaking $16.15 levels."