'Struggling' Silver Prices Lag $1300 Gold as Trade Tariffs Hit Solar Industry in China and US
Tuesday, 5/14/2019 12:34
SILVER PRICES failed to follow gold higher again on Tuesday, missing out on a gain for the 4th session running as gold slipped $5 from an overnight pop to $1300 per ounce amid worsening US-led trade war with Europe and China.
"Trump's tariffs start to look like goal and not tool for talks," says a column at Bloomberg after the US President defended his policy following
Monday's fresh round of retaliation
from Beijing and Brussels.
China buys MUCH less from us than we buy from them, by almost 500 Billion Dollars, so we are in a fantastic position. Make your product at home in the USA and there is no Tariff. You can also buy from a non-Tariffed country instead of China. Many companies are leaving China.....

— Donald J. Trump (@realDonaldTrump) May 14, 2019
Chinese manufacturers of solar-energy equipment – until 2018 the fastest-growing sector of silver demand – are
set to suffer still further
under Trump's latest tariff hikes, says GreenTechMedia.
"The US decision [in 2018] to add a
30% tariff on foreign-produced solar panels
[also] had a negative effect on its domestic solar industry, which heavily relies on cheap imports," claims solar-energy NGO consultant James Ellsmoor,
writing at Forbes
and noting that the US solar industry has shed 18,000 jobs since its 'banner year' of 2016.
Global silver use in new photo-voltaic cells
fell almost 10% in 2018
according to data produced by analysts Refinitiv for miners-and-refiners group The Silver Institute.
Back in the financial markets, the MSCI World Index closed Monday at its lowest since mid-March, and Asian stock markets today extended last night's steep losses on Wall Street.
European equities rallied 0.6% by lunchtime as UK jobs data and Eurozone industrial output figures came in just ahead of analyst forecasts.
Silver prices
remained stuck below $14.80, helping drive the Gold/Silver Ratio of the two "monetary metals" relative prices up to new 26-year records above 88.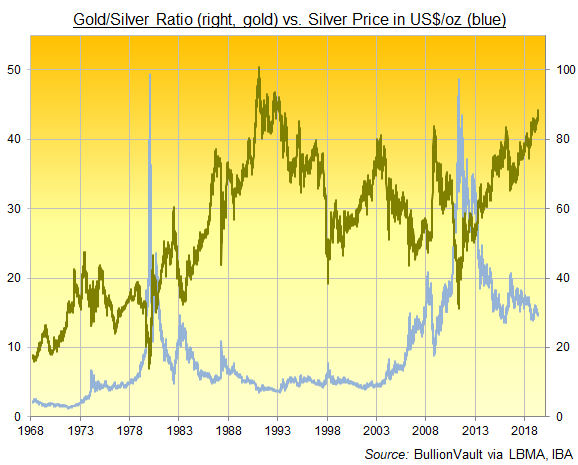 "Silver has struggled to make headway," says a trading note from bullion refiners and finance group MKS Pamp, "however [it] has the potential to test toward $14.95 to $15 should gold break $1305."
For the yellow metal, "Demand in Asia was tempered somewhat [overnight on] profit-taking above $1300," MKS goes on.
"While there remains a high level of uncertainty over the US-China trade negations, gold should remain supported [but] the greenback is however remaining, having the potential to develop
headwinds to further top-side gains for bullion."
Both platinum and palladium – primarily used in autocatalysts to cut harmful emissions from diesel or gasoline engines – held below last week's finish on Tuesday morning, trading down 0.8% at $859 and down 0.7% at $1333 per ounce respectively.
So-called crypto-currency Bitcoin meantime extended but then retreated from its weekend jump,
trading almost 15% higher
for the week so far after popping above $8000 per BTC for the first time since July.
Theories for why Bitcoin – still 60% down from its spike of end-2017 – has now risen
include "institutional interest"
from traditional stock brokers such as Fidelity wanting to offer it to clients, plus the collapse of 'alt coins', and fraud at crypto-currency exchanges.
Among leading currencies, the Euro held little changed around $1.12 on Tuesday while the British Pound fell to new 7-week lows just above $1.29 as the UK's chief Brexit negotiator,
Olly Robbins, went to Brussels
to seek changes to the Withdrawal Agreement now rejected by London's Parliament 3 times.
"Silver is no longer poor man's gold," says the latest monthly analysis from Canadian bullion bank Scotia Mocatta, noting the fact that "it also fails to attract the
steady central bank inflows seen in gold
" which analysts believe helped support the yellow precious metal in 2018.
"The longer silver remains near its cyclical floor around $15...the better chance it has of attracting and inducing new technologies and end-use demand. [But] the investment case for silver is absent for now."