'Professional Profit-Taking' Hits SLV Silver But Price Near 2-Week High with Gold ETFs Ahead of the Fed
Wednesday, 9/16/2020 13:52
GOLD and SILVER PRICES rose towards 2-week high against a falling US Dollar on Wednesday as Western stock markets fell with longer-term interest rates ahead of today's Federal Reserve policy statement and economic projections, writes Adrian Ash at BullionVault.
Gold came within $5 per ounce of Tuesday's peak at $1972 as the start of today's New York trading approached, while
silver prices
rose 25 cents below yesterday's top of $27.63 per ounce.
The US Dollar meantime fell for the 4th day running on its trade-weighted index against other major currencies, and it hit a fresh 17-month low against China's Yuan after the World Trade Organization said President Trump's heavy import duties on Chinese goods are "inconsistent" with WTO rules.
US Treasury bond prices rose in contrast, pushing the interest rate offered to new buyers of 10-year debt down to 2-week lows at 0.67% per annum.
Inflation in US consumer prices rallied to 1.3% per year in August, according to the official CPI index.
Bond-market traders currently forecast 1.6% annual inflation over the next 10 years.
"Record pace of ETF investor inflows, weakening US Dollar and negative real yields are the primary drivers for [gold's 2020] push higher," says a note from analysts at US financial giant Citigroup, raising their 3-month price target to $2200.
But giant gold-backed ETF the SPDR Gold Trust (NYSEArca: GLD) saw another small outflow of investor cash on Tuesday, taking its net liquidation since Dollar gold prices peaked above $2000 per ounce in early August to 1.6%.
Since then the GLD's cheaper competitor the iShares Gold Trust (NYSEArca: IAU) has expanded by 4.5%, but it stayed unchanged in size for the 3rd session running on Tuesday, remaining at 2/5th the size of the world's largest
gold-backed ETF product
.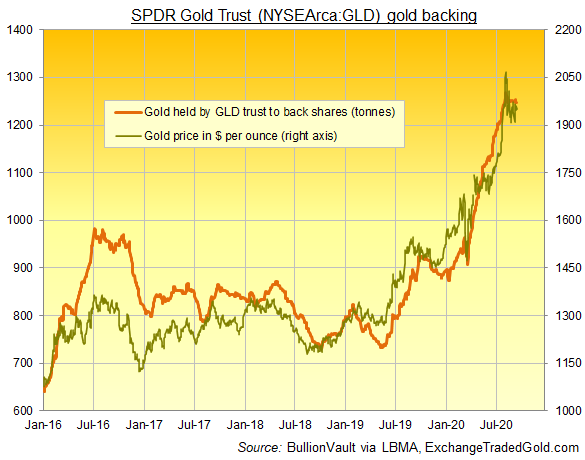 Silver prices also peaked on 6 September, hitting a 7-year high of $29.85 per ounce in London wholesale trade.
iShares' giant silver ETF (NYSEArca: SLV) has shrunk by 2.8% since then, with a small inflow on Tuesday's price rise trimming the trust fund's net liquidation of bullion holdings to 487 tonnes over the past 7 weeks – equal to one-third of world industrial demand in that period on estimates from specialist analysts Metals Focus for the mining-backed
Silver Institute in Washington
.
"Silver ETFs tend to be more retail investor-oriented than professional," says head of market analysis Rhona O'Connell at brokerage StoneX, "and retail holders tend to hang on to their metal for long periods."
"So on balance" – and checking positioning data in Comex derivatives, where money managers have cut their bullish bets without raising their bearish bets as a group – "[this] does suggest some profit-taking on behalf of the professionals."
Ahead of this afternoon's US Fed announcement, trading activity in Comex gold and silver futures contracts also both stayed subdued yesterday, with volume reaching barely 60% and 40% respectively of last Tuesday's near 2-week high, when a
drop in precious metal prices coincided
with a steep plunge in tech-stock Tesla (Nasdaq: TSLA).