Precious Metals Flat, Oil Loses 1/2 of Saudi-Attack Spike, J.P.Morgan's Head Trader Charged with 'Spoofing'
Tuesday, 9/17/2019 15:32
PRECIOUS METAL prices held little changed against most major currencies in London on Tuesday as world stock markets also held flat.
With gold trading at $1500 in US Dollar terms, silver held around $17.90 – a 2-year high when reached last month – and
platinum prices
retained yesterday's 2.5% drop at $935 per ounce.
Bond yields meanwhile eased lower yet again as crude oil lost more of Monday's 20% spike, made when markets reopened after the drone attack on Saudi Arabia's giant Abqaiq processing plant.
Half that leap evaporated today amid reports that disruption to global oil supplies from the "swing" producer Kingdom
could prove short-lived
.
Monday also saw the US Department of Justice charge 2 current and 1 former trader from US investment and London bullion bank J.P.Morgan with racketeering, conspiracy to fraud, price manipulation and "spoofing" in the precious metals market.
The
charges accuse the 3
of using the Comex derivatives exchange to place and then cancel orders for gold futures contracts with the aim of moving prices higher or lower, either to get a better price for their trading desk's genuine, opposite trades or to prevent a client winning
a "barrier option" bet
on bullion hitting a certain level on a certain date.
With precious metals accounting for a small fraction of the bank's total revenue, shares in J.P.Morgan yesterday fell less (down 0.9%) than bullion-market competitor HSBC (-1.9%) or fellow investment bank and London gold market-maker Goldman Sachs (-1.3%).
Shares in China's giant ICBC – majority owner of London bullion bank ICBC Standard – today fell 1.1% in Shanghai, while former London bullion banks Barclays and Deutsche Bank both fell hard in European trade, down 2.0% and 2.1% respectively by mid-afternoon, while sometime player Commerzbank sank 4.2%, back towards last month's new all-time record low in Frankfurt.
Back in gold,
latest data from US regulator the CFTC
show J.P.Morgan and the other 26 market providers categorized as Producer/Merchant/Processor/User cutting their overall bearish position on bullion prices as a group last week, held to hedge the physical bullion they trade.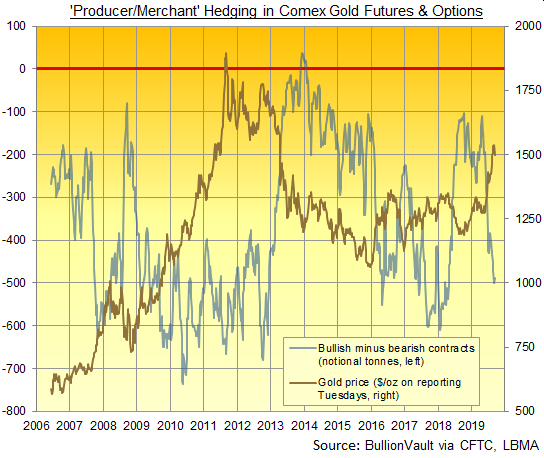 Looking at crude oil derivatives, hedge funds and other speculators grew their bullish betting overall last week, ahead of Saturday's attacks in Saudi.
"Position changes were split fairly evenly between short-covering and the establishment of new long positions," says a column at Reuters today, analyzing CFTC records and Nymex data.
Placed
on leave last week
, and now charged in the US DoJ's new precious metals case, Michael Nowak is global head of base and precious metals trading at J.P.Morgan and also chief executive of the US investment bank's JPM Ventures Energy Corporation.
Working at J.P.Morgan since graduating university in 1996, and now also a member of the base metal market's LME user committee, Nowak this July joined
the Board of Directors
of precious-metals trade body and quasi-regulator the London Bullion Market Association.
No election to the Board was needed at the LBMA's annual general meeting, as there were fewer nominations than the 3 vacancies for Board seats available to the Association's 12
market-making members
, currently held by staff from ICBC Standard Bank and HSBC besides J.P.Morgan's Nowak.
Over in China – the No.1 gold consumer market – premiums for bullion delivered in Shanghai on Tuesday slipped to a $9 per ounce premium over London quotes, back in line with the typical incentive for new imports.
No.2 consumer market India has meantime seenjewelry workshops in Mumbai's famous Zaveri Bazaar send home half of their 200,000 staff
according to India Today
, because a plunge in sales means "their bosses can't afford their salaries."
"There is a low demand for gold due to rising prices. Goldsmiths are taking the burden," says Kumar Jain of Shree Mumbai Jewellers Association, warning that the lack of income means the artisan community may start seeing suicides among its members, pointing to the wave of suicides among indebted farmers in Maharashtra State.