Gold Trading 'Set for a Break-Out' with Comex Bullish Bets at 18-Month Low as Covid 'Explosion' Offsets Vaccine Hopes
Tuesday, 11/17/2020 14:27
GOLD TRADING in London's wholesale market saw prices hold dead-flat against a falling US Dollar on Tuesday, slipping in terms of other major currencies as yesterday's recovery from the second vaccine-news plunge in a week faded.
State governors in the US are also to imposing tighter rules
ahead of next week's Thanksgiving holiday
, while San Francisco – where restaurant dining indoors is now banned – will close all offices for non-essential workers amid an "explosion" of new cases.
S&P futures pointed 0.7% lower from last night's new all-time closing high.
"[Gold is] still trading just below the 10, 20 and 50-day moving averages," says chief analyst Rhona O'Connell at brokerage StoneX, "all still clustered between $1895 and $1905."
For silver prices, O'Connell adds, "all three short-term moving averages are sitting between $24.30 and $24.70, as is spot.
"The congestion in both these metals implies a break-out is on the cards."
With gold trading unchanged from last weekend at $1889 per ounce, silver on Tuesday edged back to $24.60 per ounce after its largest ETF investment trust, the iShares SLV, saw another small outflow on
yesterday's vaccine-news volatility
.
The major US-listed gold ETFs shrank marginally on Monday, with the iShares IAU product needing 0.5 tonnes less backing as investors liquidated 0.1% of the stock.
That extended the last 4 weeks' retreat from North American
gold ETFs
, now 1.6% smaller from mid-October's new record to need the smallest backing in 2 months at 2,074 tonnes.
Latest data from US regulator the CFTC meantime show that bearish betting against gold prices by money managers trading Comex futures and options was barely changed from a week earlier last Tuesday – the day after Pfizer's vaccine PR knocked $100 off spot prices.
But with bearish speculation still near its strongest since June 2019, bullish betting among hedge funds and other money managers fell for the 3rd week running, dropping 6.2% – the fastest pace since mid-September – to reach the smallest since May 2019.
Together, that left last Tuesday's net long position in Comex gold derivatives equal to a notional 345 tonnes of bullion among Managed Money traders, the smallest in 18 months and below its 15-year average of 379 tonnes.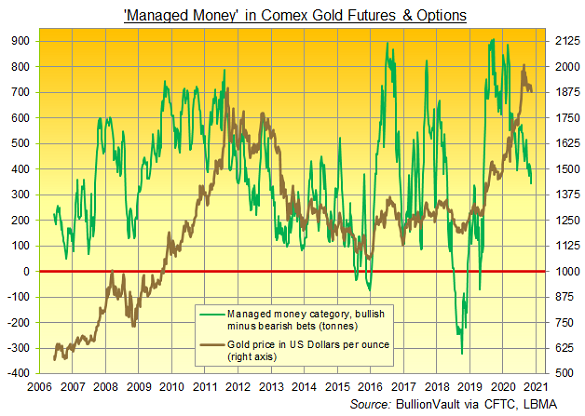 "A much documented 'rotation' is taking place in global markets," says the precious metals team at French bank and London bullion market-maker BNP Paribas, pointing to the switch spurred by last week's vaccine news from 'growth' to 'value' stocks and also out of government bonds.
"As investors are rebalancing portfolios...the impact of such changes [will] also reflect in the gold price, but investor activity is going both ways and 'cancelling' each other out."
Investors who bought in 2019 or early in the Covid Crisis "are probably rotating out – at least partially" says BNP, but "late-adopters" are using pull-backs in bullion prices "to add gold to their portfolios.
"Our own flow of business shows such dual activity of sellers and buyers somewhat consistently."
Euro gold prices meantime slipped back €10 after popping above €1600 for the 3rd time in the week since
Pfizer's vaccine news
spurred the metal's steepest 1-day drop since August's retreat from the current all-time high of €1749.