Gold Gains in 'Quiet Trading' as May Quits, Johnson Vows Brexit 'Deal Or Not', China Invokes 'Long March' on Trade
Friday, 5/24/2019 16:24
GOLD TRADING in London saw prices rise to show a small weekly gain versus most major currencies on Friday, trading above $1282 per ounce as world stock markets also gained and the British Pound rallied from new 2019 lows as UK Prime Minister Theresa May announced she will resign in 2 weeks' time.
"I have striven...to honour the result of the [2016] referendum," said May, calling for 'compromise' from whoever succeeds her and claiming that
the Brexit result "was not just a call to leave the EU
but for profound change in our country...a call to make the United Kingdom a country that truly works for everyone."
Former London mayor and ex-foreign secretary, Boris Johnson – now odds-on favourite to become Conservative Party leader and therefore UK Premier when May quits on 7 June – today told the Swiss Economic Forum in Interlaken that "
We will leave the EU on October 31 deal or no deal
."
London's FTSE100 share index of primarily international companies rose 0.8% as the Pound extended its 1-cent rally from this week's drop below $1.26.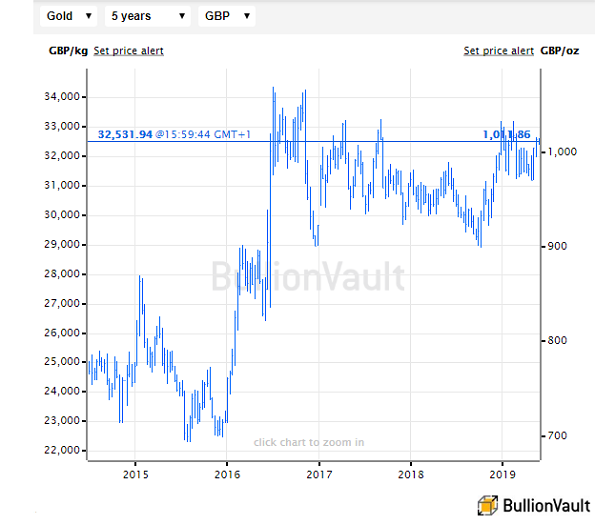 The 19-nation Euro currency also rose versus the Dollar, pulling the gold price for French, German and Italian investors down to €1145 and erasing most of the week's earlier 0.8% rise.
"Risk-off sentiment in the markets [saw] gold and silver close higher [on Thursday]" says today's bullion trading note from Swiss refiners and finance group MKS Pamp.
"[But] once again [Friday was] very quiet in Asia, gold trading a $2 range."
Basis the Shanghai benchmark price, gold landed in China – the world's No.1 consumer market – held near $15 above London prices, a strong incentive for new bullion imports.
"Huawei is something
that's very dangerous
," said US President Donald Trump overnight, "[but] if we made a [trade] deal [with China], I can imagine Huawei being included in some form, some part."
China's state-run Xinhua news agency today
invoked the spirit of the 1930s' 'Long March'
which cemented Mao Zedong as Communist Party leader, saying it was "vital to win the liberation war" against Japan's brutal invasion and occupation.
Gold prices in No.2 consumer nation India today flipped to a positive $1 premium over London quotes, Reuters reports, up from last week's $2 discount per ounce, as the Rupee rallied following nationalist BJP party leader Narendra Modi's celebration of a second victory as Prime Minister.
Analysis from the SBG Securities division of Africa's largest bank, Standard Bank Group, meantime advised shareholders in world No.3 platinum producer Lonmin (LON: LMI) to reject the takeover offer from Sibanye (JSE: SGL), currently recommended by Lonmin CEO Ben Magara.
"The pending Sibanye offer grossly undervalues Lonmin," reckons analyst Leroy Mnguni, calling for a 45% improvement.
Platinum today crept back above $800 per ounce, down 2.3% from last Friday at its lowest weekly close since February.
Silver prices
rose 1.1% from last Friday after hitting new 2019 lows this week beneath $14.40 per ounce.