Gold Price Sinks, Silver Plunges as Fed's 0% Rates and New QE Fail to Stem Stock-Market Crash
Monday, 3/16/2020 14:45
GOLD PRICES sank to 3-month lows against a falling US Dollar on Monday morning in London, writes Atsuko Whitehouse at BullionVault, extended its hardest weekly slump since 1983 as global stock markets plunged after the Federal Reserve slashed interest rates to 0% and announced $700 billion of new quantitative easing amid the global coronavirus emergency.
Platinum prices
fell 25% in barely 3 hours, making the more industrially useful precious metal the cheapest in Dollar terms since late 2002 at $571 per ounce.
Finding almost three-fifths of its global demand from industrial uses, silver fell to its cheapest since January 2009 – back when the Fed first begain its bond-purchase program amid the Lehman Brothers meltdown – dropping $3 from overnight levels to hit $11.81 per ounce.
That took the Gold/Silver Ratio of the two formerly monetary precious metal leaping to a new all-time record high at 119, almost 20% above gold's prior record high in terms of its cheaper cousin from 1991.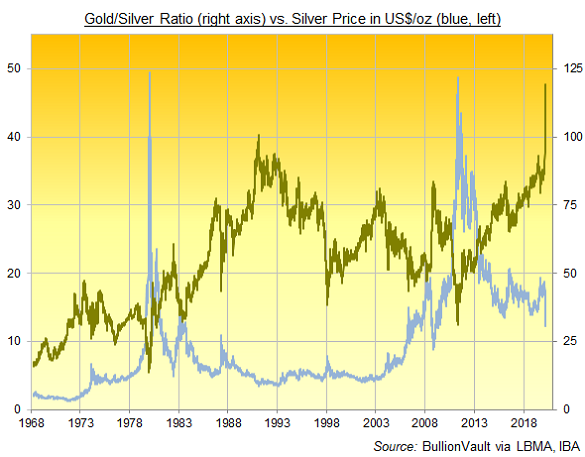 "While equity markets continue to be under pressure and there is a push towards liquidity across the markets, it
wouldn't be unusual
for gold prices to sell off as well," Standard Chartered Bank analyst Suki Cooper said.
"Sell everything that you can sell" seems to be message, says a note from ICBC Standard Bank's former Tokyo manager Bruce Ikemizu, now chief director of the newly established Japan Bullion Market Association.
"Traders are cashing out of gold, which has deep liquidity, as equities extend their hardest drop on record."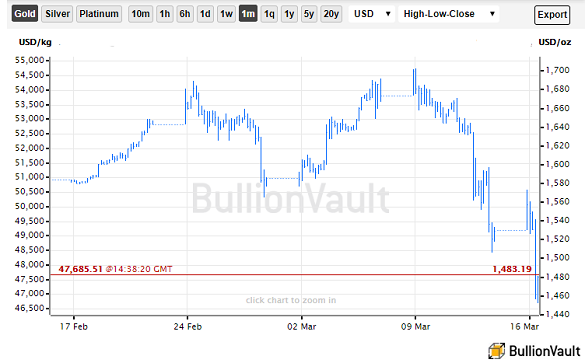 The US stock market meantime plunged 8.1% at Monday's open, triggering another 15-minute trading halt as investors fled risk asset.
European shares plummeted to 2012 lows on Monday, with the Stoxx 600 Index falling 8.9% led by markets in France and Spain, where economic and social shutdowns are now in place,
following Italy's lead.
Germany has also closed large parts of its economy and strengthened border controls in a bid to contain the spread of the coronavirus.
The UK government in contrast continued to face growing calls to take similarly drastic measures after the Trump administration in the US expanded its travel ban on European flights to include the UK and Ireland.
Gold prices for UK investors today fell 4.7% to £1187.75, dropping 9.3% from the new record highs above £1300 per ounce reached in February.
Euro gold prices also sank hard, down 5.2% to €1304 – some 16% below late-February' new all-time top.
Sunday's shock announcement from the Federal Reserve saw the world's most important central bank cut its key interest rate by a full percentage point, back down to near zero, with QE re-started
"to support the smooth functioning"
of Treasury and mortgage agency-bond markets.
The Bank of Japan moved to increase its QE purchases of exchange-traded funds yet further, bringing forward its decision from later this week.
The central banks of both South Korea and New Zealand also slashed rates at their own emergency policy meetings.
Chinese data out Monday showed a huge slump in manufacturing, retail sales and investment for February, with industrial output shrinking by 1/7th from the same month last year as the world's No.2 economy shut factories to slow the spread of novel coronavirus from the source city of Wuhan.
European government bond yields rose meantime, while 10-year US Treasury rates gave back Friday's jump as debt prices rallied, taking Washington's cost of borrowing back down to 0.81% per annum.