Gold Starts 2021 with Strongest Year in 10, Up 24% to Beat Stocks as Covid Lockdowns Crush Growth and Interest Rates
Thursday, 12/31/2020 12:21
GOLD PRICES closed the eve of New Year 2021 with their strongest annual gain in a decade on Thursday, capping the first year of the Covid-19 pandemic with a record-high annual finish of $1891 per ounce in London, heart of the world's bullion market.
Gaining 24.1% in US Dollar price terms as social restrictions and lockdowns to try stemming the spread of coronavirus caused the steepest global economic crash since World War 2, gold bullion in 2020 showed its best year since 2010.
Silver prices
meantime set the highest year-end Dollar price since the eve of 2013, trading at $26.50 per ounce to perform better than gold by rising almost 47.0% above last New Year's Eve as Western governments tried to offset the economic crash with unprecedented income support, funded by unprecedented borrowing and central-bank quantitative easing monetary stimulus.
On the forex market the Dollar this year lost 7.5% of its value against the world's other major currencies, falling to new 2.5-year lows in overnight Asian trade on Thursday.
US stock markets rose 18.3% from last December 31st, setting yet another fresh all-time record high only this Monday on the Wilshire index of all actively traded corporate equities.
That day also saw real US interest rates – as measured by inflation-protected Treasury bond yields – fall to multi-decade lows at -1.08% per annum on 10-year TIPS.
Real rates today fell back within 1 basis point of that level, suggesting that US Dollar holders will lose more than one-tenth of their purchasing power over the next decade and implying annual inflation of 1.99%, pretty much exactly the Federal Reserve's target level.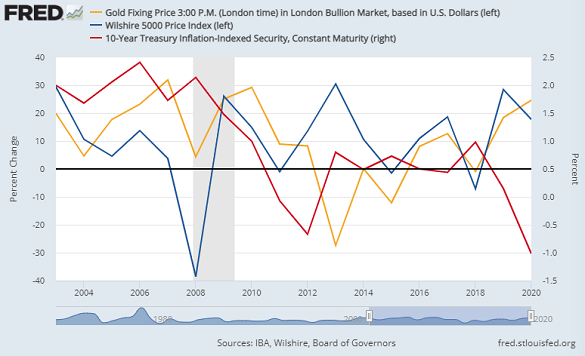 "There is the potential for [global] equities to pull back on profit taking," says the latest note to clients from Jonathan Butler at Japanese conglomerate Mitsubishi.
Further ahead in 2021, "equity performance will crucially depend on the speed of approval and roll-out of vaccines, while real interest rates and other macroeconomic conditions will remain favourable to bullion."
Gold prices in Shanghai also ticked higher on Thursday, closing the eve of calendar-year 2021 at ¥392 per gram, up by 15.5% from last December 31st.
That still put gold prices in China – the metal's No.1 mining and consumer nation, and also source of the SARS-Cov-2 virus and pandemic – at a $20 discount per ounce to London.
While steeply better than the
record $90 Shanghai gold discount
reached when global gold prices set their all-time records above $2000 per ounce in August, that still contrasts with an average $9 premium prior to 2020, continuing to suggest very weak household demand ahead of February's Chinese New Year holidays, now the world's largest gold-buying festival.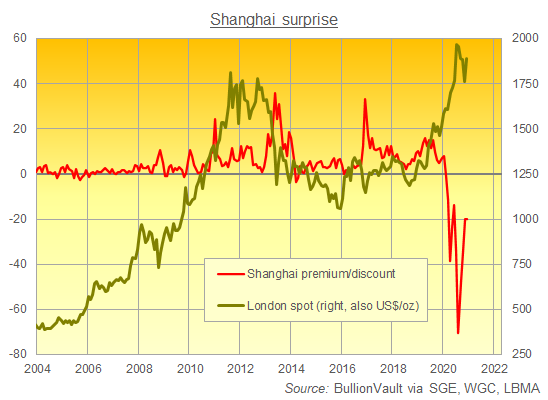 Comex gold futures for New York delivery next month today showed a $4 premium to London bullion, holding around typical levels after spiking to
dramatic all-time highs of $100
per ounce as the UK government imposed its first lockdown in late March.
Fears that lockdown would prevent bullion reaching New York from the global storage and trading hub of London proved unfounded however as the
secure logistics industry shipped record quantities
of the precious metal across the Atlantic and also into the US from other locations.
"Brexit may have a lasting impact on the liquidity of the gold market in the long run," reckons a note from the precious metals team at French bank and London bullion market-maker BNP Paribas, "[because] most central banks still hold their gold in London's commercial banks' vaults or in the vaults of the Bank Of England.
"The implications for EU-27 central banks of holding gold outside of the Eurosystem may become an issue in the medium-term [and] many have engaged already in repatriation programs to have their gold closer to home where control can be ascertained (whilst limiting drastically the 'usability' of their gold for market operations).
"But now, on top of Covid-19 accessibility risks, Brexit will surely add to the worries of such official institutions that their gold is not 'readily available', triggering even more repatriation procedures and shrinking the gold liquidity pool."
Gold in custody across
London's commercial vaults
meantime grew by 29.2% this year to set new series records and take the sum total of central-bank and privately-owned gold held in professional storage inside the M25 orbital highway to 9,350 tonnes at end-October.
Much of the 2020 inflow to London vaults came from record demand for
gold-backed ETF trust fund shares
, now needing 3,752 tonnes of bullion – almost one-third more than last New Year's Eve – according to data compiled by the mining industry's World Gold Council.