Gold Price Tests Post-Peak Floor as ETFs Shrink, India and China Demand Recovers
Thursday, 11/19/2020 14:17
GOLD PRICES fell within $5 per ounce of a 4-month low in London trade Thursday, retreating to $1853 even as world stock markets fell together with long-term interest rates and commodity prices amid tighter anti-Covid restrictions plus a surprise jump in US jobless benefit claims.
Priced in the Dollar, gold has not traded below $1849 since late-July, when inflows to
gold-backed ETF trust funds
hit new record highs.
No.1 gold ETF the SPDR Gold Trust (NYSEArca: GLD) in contrast shrank another 0.6% yesterday, reaching its smallest in 4 months, while No.2 the iShares Trust (NYSEArca: IAU) – which holds bullion in New York as well as London vaults – saw net liquidation of 0.2%.
"The flow of gold from east to west triggered by the coronavirus pandemic eased in October,"
reports Reuters
, with imports falling as exports from the global refining hub of Switzerland to the No.2 consumer nation of India reached a 17-month high.
Diwali 2020 culminated in India last weekend with "strong month-on-month growth in demand" says specialist consultancy Metals Focus, reporting "bargain buying" by households celebrating the Hindu festival, spurred by "November's correction in the gold price, the release of pent-up demand, the easing of lockdown measures and the upcoming wedding season."
That still left Diwali demand down 10-15% from last year's already weak total however, Metals Focus estimates, but field research now shows "interesting trends, including strong demand for bridal jewellery, a reduction in average product weights, robust demand in small towns, and subdued buying of investment products."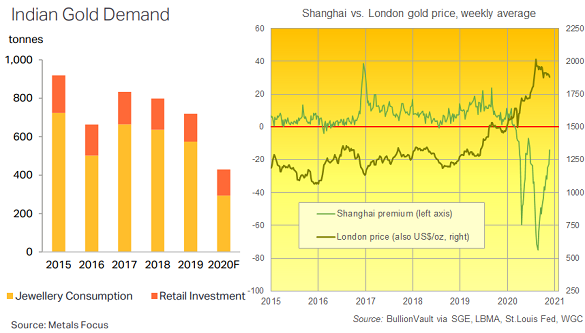 Falling gold prices in China have meantime held firmer than US Dollar quotes for delivery in London – heart of the global bullion trade – suggesting an improved balance of demand and supply in the metal's No.1 consumer market following this year's Covid collapse.
Prices at the Shanghai Gold Exchange have now averaged a $14 discount to London quotes per ounce so far this week, the smallest since June's rebound and markedly smaller than the record $90 reached after global gold prices peaked at a
new records of $2075
in early August.
"Switzerland's exports of gold to China [have] remained at rock bottom however," says Reuters, "suggesting that demand in Asia is far from a full recovery."
China, like India,
bans the export of gold bullion
, meaning that any over-supply has to be worked through domestically rather than shipped and sold abroad to exploit and close local price differentials.
University of Oxford scientists today reported a strong immune response "even in those over 70 years of age" among participants in a trial of its Covid vaccine, set to be manufactured by AstraZeneca (LON: AZN).
Platinum in contrast extended this week's 5.9% rally on Thursday, reaching its highest since mid-September after the mining-backed World Platinum Investment Council said the white metal has seen a
significant deficit of supply
lagging demand in 2020, with a further deficit forecast for next year.