Gold Prices 'Supported by Geopolitics' as ECB Board Member Quits Over QE, Negative Rates
Thursday, 9/26/2019 15:17
GOLD PRICES held two-thirds of yesterday's $30 plunge in London trade Thursday, moving sideways at $1510 as the Euro currency fell following the sudden resignation of a senior central banker – apparently in protest at this month's return to QE.
Former vice-president of Germany's central bank Sabine Lautenschläger quit her role on the Board of the European Central Bank
2 years early overnight
.
The House Intelligence Committee in Washington
meantime released a cut-down version
of the "whistleblower" complaint against Republican President Trump over his alleged attempt to smear Democrat opponent Joe Biden via Urkaine.
Starting 2019 with an expectation that Euro
interest rates would rise this year
, Lautenschläger said at the end of August "It is much too early for a huge [monetary stimulus] package.
That decision, if put to a vote by outgoing ECB President Mario Draghi, would have been opposed by 5 of the union's 19 central-bank governors and 2 of its 6 senior board members, says Italy's Il Sole 24 Ore, with the Netherlands' Klaas Knot "openly criticizing the package as disproportionate" since that meeting.
Eurozone bond yields
were little changed on the news, leaving the average cost of borrowing for governments across the 19-nation union negative out to 10 year loans, and negative on all maturities for the "triple-A" rated nations of northern-eastern states led by Germany.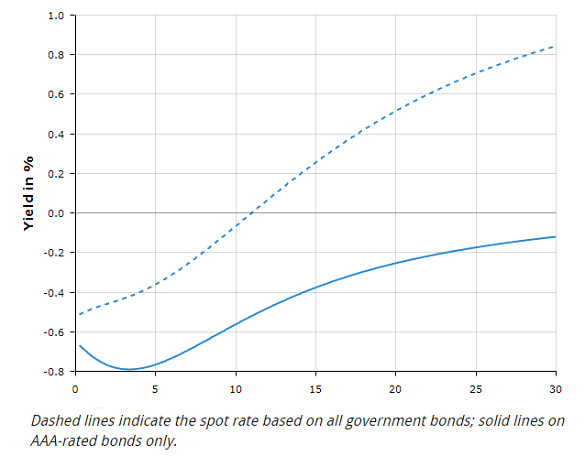 Because negative rates mean investors must pay to hold the Euro as a foreign exchange play versus other currencies, "If you're bearish the Dollar it's cheaper to own physical gold," said a column from news and data providers Bloomberg last week.
The Euro fell on the FX market Thursday, dropping back below $1.10 to the Dollar – a 2-year low when reached in late August.
That helped gold priced in the single currency to trade unchanged for the week so far at €1378 per ounce.
The UK gold price in Pounds per ounce held firmer still, trading 1.1% higher from last Friday at £1228, as Sterling slid yet again as
Parliament – sitting since Wednesday
following Boris Johnson's historic defeat in the Supreme Court – opposed the Government for the 7th out of 7 votes on Brexit since he became Prime Minister this summer.
"Strength in the Dollar this year has been a contraining influence on gold," says global bank and London bullion-clearer HSBC's chief precious metals analyst Jim Steel.
But where 2018 saw 'safe haven' flows going exclusively into US Treasury bonds and the Dollar, in 2019 "gold has been able to
siphon off a sufficient amount
of those flows to support it."
Asked about whether Trump's possible impeachment could drive gold higher, "What's more important is the general climate of geopolitical risk this year is higher," says Steel.
Following US and European condemnation of the apparent Iranian-led drone attacks on Saudi oil facilities, Saudi Arabia's foreign minister Adel al-Jubeir said today that "Everybody's trying to avoid war...[but]
appeasement has not worked with Iran
in the past."
Turkey's President
Erdogan urged caution
, telling Fox News that "the evidence available does not necessarily" make Tehran the likely culprit.
Crude oil prices today erased the last of mid-September's sudden 20% spike on the Saudi attacks, dropping below $56 per barrel of US benchmark WTI as
repairs to the giant Abqaiq refinery
were said to be ahead of schedule.