Political Tensions Fail to Stop Gold Falling Through 2011 Peak Again as ETF Growth Stalls
Friday, 8/21/2020 14:10
GOLD PRICES dropped below $1920 per ounce in London on Friday, falling through the metal's prior all-time high – set in September 2011 – before rallying $10 as longer-term interest rates eased back and global equities pushed higher.
Rich-world stock markets closed Thursday at their highest level since late-February's all-time highs on
the MSCI World index
, rallying 49.1% from March's Covid Crash low.
Ten-year US Treasury yields fell to 2-week lows at 0.63% on Friday, down 8 basis-points from last week's spike after new data yesterday showed jobless benefit claims rising sharply, defying hopes that the world's No.1 economy is recovering amid the surge in Covid-19 infections.
The Dollar edged higher again, rising 1.2% from last week's new 2-year lows, as US President
Trump took to Twitter
to attack Joe Biden for "excusing violence and crime" after his Democrat challenger in Election 2020 called the celebrity real-estate mogul's time in office "a season of darkness in America."
Silver retreated with gold prices, erasing almost all of the week's earlier 7.6% gain to trade back at $26.50 per ounce – a new 7-year high when reached 2 weeks ago.
Base-metal copper meantime held near this week's new 2-year highs, driven by "the Chinese demand recovery flowing from Beijing's [economic] stimulus package," according to Reuters.
Iron ore prices have now rallied by more than 50% since April's lows to reach new all-time records at "unsustainable prices" in the view of French investment bank Natixis, "as supply is in on the increase."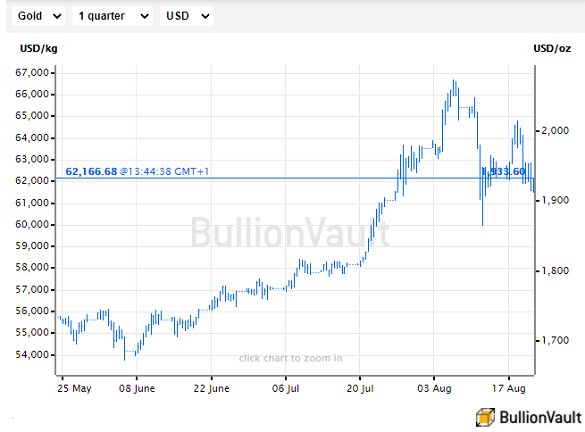 Losing over $140 today from the new record of 2 weeks ago, gold prices first breached the old September 2011 peak in late-July 2020.
Then rising a further 8.0% to its current peak of $2075 set on 7 August, gold prices have also now traded below $1920 five times in total.
"All precious metals cautious as the Dollar strengthens again," says chief analyst Rhona O'Connell at brokerage StoneX.
"A deterioration [however] in US labor market data, falling bond yields and continued geopolitical tensions continue to support gold," reckons National Australia Bank economist John Sharma.
White House press officer Kayleigh McEnany says Trump may choose to reject the result of Election 2020 if it goes against him.
"We're saving the world from a radical left philosophy that will destroy this country," said Trump on Thursday, calling supporters of the QAnon conspiracy theory – which claims that Trump is actively fighting against a global elite of satanic pedophiles and cannibals – "
people that love our country
."
Accepting the Democrat nomination last night, "We...choose hope over fear,
facts over fiction
, fairness over privilege," said former vice-president Joe Biden.
With the White House meantime moving this week to block Chinese tech-giant Huawei from buying US-made equipment, the governments of India, Japan, Australia are working on
a Supply Chain Resilience Initiative
, reports the
South China Morning Post
, "to reduce dependence on China in wake of the disruptions caused by the coronavirus."
Major gold-backed trust funds the GLD and IAU ETFs have struggled to expand since last Friday, seeing investor interest flatten for a second week after a record 20-week of net inflows.
Longer-term, "A price of
$5500 is now a reasonable target
[for] the peak of the current secular bull market," says US investment bank Jefferies' global strategist Christopher Wood, comparing the ratio of gold prices to US disposable income per head back at the 1980 peak against today's level.
"We see gold trading between $1920 and $1980 in the near term," says Sharma at NAB, pointing to downside rises from improving 'risk' sentiment in the stock market, plus progress towards a Coronovirus vaccine.