Gold Prices Slip from $1800 But China and India Demand Supports as QE 'Drives Up' Copper
Thursday, 4/22/2021 14:10
GOLD PRICES fell but were seen resuming their longer-term uptrend by traders on Thursday, slipping $10 per ounce from yesterday's 8-week peak near $1800 as Western government borrowing costs rallied following 'no change' to the European Central Bank's historic easy-money policies.
India posted
a fresh daily record
for both new Covid cases and deaths at 300,000 and 2,100 respectively.
The European Union meantime said
it won't take up an option
to increase its purchases of the Oxford-AstraZeneca vaccine by one-third.
For the UK, where 1-in-5 adults has now received 2 shots of vaccine, March was the first month since October that Covid-19 was not recorded as the No.1 cause of death.
Back in Frankfurt, the ECB today
led its April press release
by saying it "decided to reconfirm its very accommodative monetary policy stance."
Deposit rates for commercial Eurozone banks have now been below zero since mid-2014. Money-creation for buying financial assets has now taken the 19-nation central bank's balancesheet above $9 trillion,
over 3 times its size a decade ago
.
"After a pause to refresh, the copper price [is] rising again," says French bank and London bullion market-maker Societe Generale's global strategist Albert Edwards.
"Most think this is a sign of the strength in the economic cycle. But the surge in agricultural prices, just as in 2011 that triggered the Arab Spring revolutions, suggests
this is more to do with QE
– again!"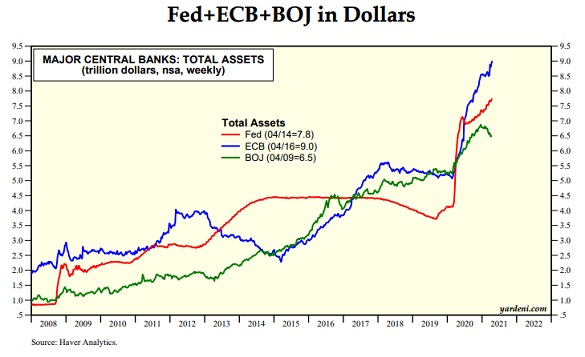 With today's Climate Summit hosted by US President Biden expected to signal massive 'green infrastructure' spending to try meeting newly aggressive greenhouse-gas emissions targets, base-metal
copper today rose
back towards start-March's 10-year highs, edging within 8% of early 2011's record peak.
Silver in contrast – and despite being
key to many 'green' technologies
led by PV solar panels – retreated with gold, down 30 cents per ounce after ticking its highest since start-March at $26.64 on Wednesday.
Gold priced in Euros erased the week's earlier 1.0% gain, dropping €15 per ounce to €1481 after touching 9-week highs near €1500 yesterday ahead of the ECB's latest policy decision.
While reaching barely 9 tonnes in March, Swiss exports to No.1 consumer nation China were the highest in 7 months, with sources telling the news-wire that the People's Bank has now granted import licences for total inflows of 75 tonnes per month from now on.
No.2 India meantime took in nearly 83 tonnes of Swiss gold bullion bars last month, the most since the precious metal's historic price crash of April 2013.
"Gold should remain supported by continued physical interest out of both Shanghai and India, while
gold ETFs
are beginning to see recent outflows dry up," says a trading note from Swiss refining and finance group MKS Pamp.
"Recent short builds [in speculative bearish bets on gold futures and options] are holding for the time being. However we expect these to be tested through $1800 to drive price action higher."
"Further down the line," says a note from the precious metals team at French bank and London bullion market maker BNP Paribas, "the fundamental backdrop is more constructive than at any time this year.
"$1830 could become a pivot," BNP says – pointing to what it calls a 'congestion zone' from Jan-Feb's price action – "where industrial, physical buying and other broader investment money flows would materialize on any temporary price pull-back."
Meantime in so-called digital assets, most crypto-currencies fell again, with joke-crypto Dogecoin almost halving from last week's new peak after Turkey's clampdown on the sector saw the police
launch an investigation
into a failed trading exchange whose CEO appears to have fled owing a notional $2bn in assets to 390,000 users.