Gold Prices Rally to $1310 as US Retail Sales Sink Like 2009, US-China Tariff Deadline Looms
Thursday, 2/14/2019 14:13
GOLD PRICES rallied against a falling US Dollar in London on Thursday, rising back to $1310 as world stock markets slashed earlier gains and new data showed US retail sales badly missed analyst forecasts for the end of 2018.
With little sign so far of a new deal from this week's Washington trade delegation to Beijing, President Trump is considering whether to push back the 1st March deadline for re-imposing heavy trade tariffs against China by 2 months,
news reports claim
.
Trump's trade tariff policies cost US business $2.7bn in November alone, according to data compiled for a 'free trade' lobby groups.
Instead of the 0.2% monthly growth expected by analysts, US retail sales in December showed
a 1.2% drop over the festive season
, the steepest fall since the global recession of 2009.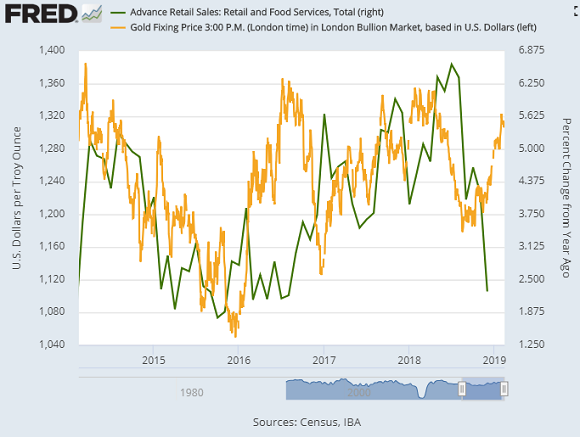 Repeating the US central bank's new position on selling down the $4 trillion of assets bought since the financial crisis with QE money, "At coming meetings," said Fed 'hawk' Loretta Mester of the Cleveland branch this week, "we will be
finalizing our plans for ending the balance-sheet runoff
and completing balance-sheet normalization."
Mester then denied
, however, that the Fed's balance sheet reduction policy was the cause of late-2018's "disruption in financial markets".
Betting on January 2020 interest rates now sees a
77.8% certainty
that the Fed will keep borrowing costs unchanged from the current cap of 2.5% over the next year.
Data from the CME derivatives exchange say that likelihood never rose above 35% of all speculative betting until late 2018.
Gold prices
had on Thursday earlier dropped towards the bottom of February's $25 range so far, slipping to $1304 as world stock markets extended their gains after better than expected economic data from export giants China and Germany.
China's total exports grew by 9.1% in Dollar terms in January from the same month last year – a stark contrast to the 3.2% drop forecast by analysts – while imports slipped only 1.5% against 10.0% expected.
Foreign direct investment also rose strongly.
Household gold buying in Germany – now the 4th largest consumer nation ahead of Turkey, and with a uniquely massive 90% of demand coming for gold coins and investment bars, rather than jewelry –
slipped 8.2% in 2018
, new data showed last week, falling to the lowest since at least 2009.
Euro gold prices today held in line with last Friday's 94-week closing high of €1159 per ounce.
Shanghai gold prices meantime held a $10 premium to London quotes, extending the solid run of prices seen since China's wholesale market re-opened on Monday after the Lunar New Year holidays.
Back in New York, the giant SPDR Gold Trust (NYSEArca: GLD) saw an outflow of investor cash yet again on Wednesday.
The 8th liquidation in 9 trading sessions so far this month took the quantity of gold bullion needed to back the No.1 gold ETF down below 797 tonnes.
Last time the GLD was that size, in early January, gold prices in the wholesale bullion market were $20 cheaper per ounce.
Looking at the gold price chart, "$1310 remains a key pivot," says a trading-desk note from Swiss refiners and finance group MKS Pamp, "with $1303 and $1318 notable support/resistance levels
respectively."
The UK gold price in Pounds per ounce meantime rose to £1023, less than £10 below January's spike to 16-month highs, as Brexit moved within 43 days away but UK politicians and media argued over whether Winston Churchill, who died over 50 years ago, was
a hero or a villain
.