Gold Price Breaks $1900, New Record Week-End High as Inflation Rises, Rates Sink
Friday, 7/24/2020 15:32
GOLD PRICE gains of nearly $100 per ounce from last Friday's finish capped a remarkable week in London trading today, with the precious metal breaking above $1900 for only the second time ever against the Dollar as the global coronavirus pandemic worsened again and new data from the United States pointed to a weaker-than-hoped recovery.
Activity in the world's No.1 economy missed analyst forecasts for the Markit data agency's
preliminary July PMI report
, with the services sector continuing to shrink unexpectedly.
First hit by the novel coronavirus this New Year, China today put the north-eastern city of Dalian
back into partial lockdown
after 3 people tested positive, while India reported
a record 1-day increase
in the number of Covid-19 cases in the world's second most populous country.
Gold prices for those 2 giant consumer nations set new all-time highs on Friday, rising further above INR 50,000 per 10 grams and ¥416 per gram.
Gold prices also set fresh all-time highs in Euro terms Friday, costing investors in the world's 2nd largest economic bloc a record €1640 per ounce – some €7 more than mid-May's peak.
The
UK gold price in British Pounds per ounce
recorded a new all-time high for the 3rd day running, now up over 30% since New Year at £1493, while the US Dollar price held at $1900 around the 3pm benchmarking auction in London, beating its record Friday finish of 2 September 2011 by $25.
"What a difference three days make! Tread with care," warns chief analyst Rhona O'Connell at brokerage StoneX.
"It feels like the market wants to go get the prized historical high record [at $1920] set in September 2011," agrees another London dealing desk.
"But my gut feeling is still that it's a bit too early and some profit-taking could delay the event by a few weeks, especially as the current drivers (negative real yields) are nothing new for gold positioning."
Real rates on 10-year US Treasury debt today fell to a new record low, costing new buyers -0.91% per annum after accounting for market-implied inflation between now and 2030.
On a 52-week basis, the relationship between real 10-year rates and gold prices has only been stronger once in the 17 years of available data, with the negative correlation of -0.97 since this time in July 2019 just beaten by the 52 weeks ending late-May 2008.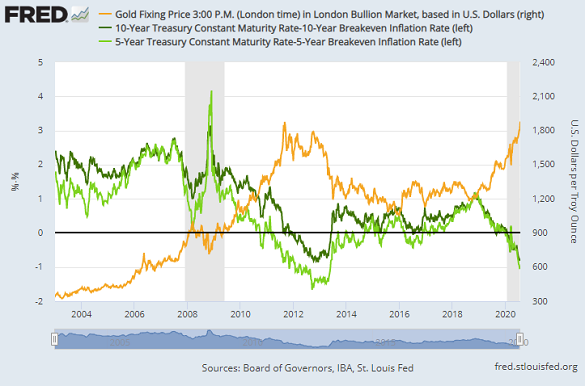 The new record-low in real US rates comes as rising bond prices have pushed down the nominal yield offered to new buyers still further, while market-implied inflation rates have risen.
The cost of living over the next 5 years is now projected to rise by 1.39% per annum – up from 1.35% last Friday – and 10-year inflation is now forecast at 1.50%, up from 1.46%.
"Millennials flood into precious metals: Is gold the next TSLA?" claims a headline at
tabloid-finance site ZeroHedge
, pointing to a "surge" in the number of Robinhood users buying a fraction of a share in the giant GLD gold-backed ETF via the smartphone trading app, now up from 15,000 to 20,000 "in the last few days".
But neither GLD nor any other precious-metal ETF or mining stock shows in Robinhood's top 100 however, with that table led by Ford Motor Co. (NYSE: F) – now bought by nearly 1 million accounts.
The GLD did see net investor inflows again Thursday, marking its 18th consecutive week of expansion, now unbroken since gold prices bottomed in the Covid Crash which took global equities down at the fastest pace since the Lehman Brothers crisis and crushed silver prices to 2009 levels beneath $12 per ounce.
Silver prices yesterday set 7-year highs above $23 per ounce, marking the precious metal's fastest jump since the tops of 2011 and before that 1980 before edging back Friday to $22.80 – still up by one-fifth from last weekend – even as gold prices rose further.
Base metals led by copper retreated, as did energy costs, but agricultural commodities ticked higher.
US Secretary of State Mike Pompeo meantime called for "the United Nations, NATO, the G7 countries, the G20, our combined economic, diplomatic, and military power...to heed [the] words" of disgraced 1970s' President Richard Nixon that "the world
cannot be safe until China changes
" and lambasting Washington's allies for not striving "to protect [their] sovereignty...economic prosperity [and] ideals from the tentacles of the Chinese Communist Party."
Western stock markets fell, knocking over 1% from the EuroStoxx 600 index and pulling New York's S&P500 to a small loss for the week after China's CSI300 sank once again, closing over 7% below mid-July's surge to 5-year highs.