$1445 'Critical' for Gold Price as US Fed Rates Top GDP and Inflation 1st Time in 11 Years
Wednesday, 11/27/2019 15:47
GOLD PRICES traded in a $5 range Wednesday in London, holding tight against a rising Dollar as US stock markets opened at their 11th new all-time high in a row and GDP growth in the world's largest single economy was revised higher.
US gross domestic product expanded by 2.1% per year in July-September according to the Bureau of Economic Analysis,
just beating Q2's pace
and marking the weakest third-quarter expansion since 2015.
Excluding food and energy prices, the PCE price index of living costs also increased 2.1% per year this summer, today's revision said.
That meant that the Federal Reserve's key interest rate was just higher than both inflation and GDP growth for a second quarter running,
something not seen
since the global banking crisis of end-2008.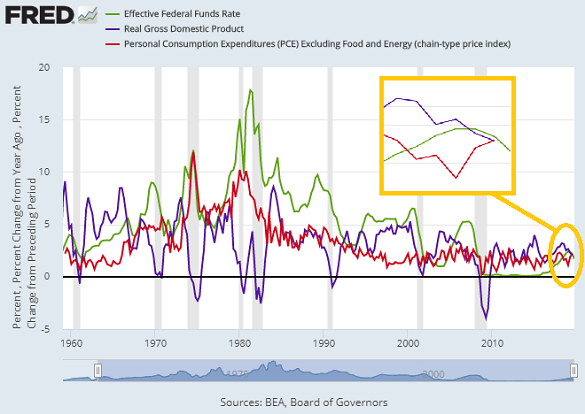 "If prices fall below $1445, then there will be a clear signal that
we are entering a danger zone
," says one spread-betting bookmaker's analyst to Reuters, pointing to mid-November's 3-month low in Dollar gold prices.
"Overall gold remains in the doldrums," agrees another, "entirely at the mercy of movements in other markets [while] critical support remains at $1445."
Analysts at giant US finance group Citi have now cut the bank's 3-month target for gold prices by almost $100 per ounce to $1485.
US investment bank Goldman Sachs meantime sees gold prices hitting $1600 sometime in 2020.
Tuesday's rally in Dollar gold prices, up from $1450 to $1462 overnight, saw trading volumes in gold futures and options jump by nearly one-half on the Comex derivatives exchange, reaching the highest turnover in almost 3 weeks.
Separate data today put new claims for US jobless benefits below analyst forecasts for last week, while October's orders for durable goods beat expectations.
Meantime in No.2 economy China – the world's No.1 gold miner, importer, consumer and central-bank buyer so far this century – "the slowdown in China's economy and rising inflation have
squeezed consumers' budgets
," says a note from the mining-industry's World Gold Council, "
hampering China's physical gold demand
as a result."
Gold premiums in Shanghai, over and above London quotes, today eased back to $4 per ounce, less than half the last decade's average incentive for new imports.
Beijing raised a record $6 billion in new US Dollar debt on Tuesday, "its biggest ever international sovereign bond sale" according to Reuters, "as it pounced on the year's sharp dive in borrowing costs."
"US investors largely left the deal alone amid the trade war," notes Bloomberg. "Fund managers were also a diminished presence from last year, with the bulk of the sale taken up by banks and the public sector – a group that includes central banks and sovereign wealth funds."
In the financial sector, more than 1-in-8 of China's 4,379 private lending companies are now considered "high risk" by regulator the People's Bank, including 586 banks and financing firms.