Gold Price Re-Tests $1200 Low as Brexit 'Optimism' Meets 'Stockpiling', Trump Whacks Macron
Tuesday, 11/13/2018 13:39
GOLD PRICES rallied from their first dip below $1200 per ounce in 5 weeks Tuesday in London as Italy faced down the EU over its 2019 deficit, Brexit dominated UK headlines, and US President Trump said France needs to pay more into the Nato military alliance.
Crude oil fell yet again, and Asian stock markets extended last night's rout on Wall Street, but European equities recovered 0.5% on average by lunchtime.
Silver touched a sub-$14 price for only the second time in nearly 3 years before adding 10 cents.
Platinum prices
also dropped and bounced, touching new November lows before reaching $847 per ounce, still some 3.5% beneath last week's 5-month highs.
"There remains inherent weakness across the precious complex," says the latest trading note from MKS Pamp, the Swiss refining and finance group, "and we are likely to see a re-test of [gold price] $1200
before any uptrend is resumed.
"[While] political uncertainty and softer global equities should drive safe-haven demand over medium-term...a move underneath $1200 will see targets extend toward $1195 and
$1180," MKS says.
As for silver re-testing $14.00 per ounce, "The metal has not made a sustained break underneath the figure since early 2016 and could target a move to $13.75 - $13.65 should the support be broken."
After French President Emmanuel Macron criticized nationalism as
"a betrayal of patriotism"
in an Armistice Day speech apparently aimed at US leader Donald Trump and Russia's Vladimir Putin on Sunday, Trump today attacked him for France's failure to meet its Nato military treaty spending obligations.
Emmanuel Macron suggests building its own army to protect Europe against the U.S., China and Russia. But it was Germany in World Wars One & Two - How did that work out for France? They were starting to learn German in Paris before the U.S. came along. Pay for NATO or not!

— Donald J. Trump (@realDonaldTrump) November 13, 2018
Rumors of
"cautious optimism" in both London and Brussels
over an impending UK deal with the European Union for next March's Brexit meantime saw the Pound rise to 1-week highs against the Dollar, adding almost 1.5 cents from November's low.
Gold priced in Euro terms meantime slipped to 3-week lows at €1067 as rumors spread that Italy's left-right coalition government will refuse European Union demands to re-submit a new 2019 budget and cut its deficit spending plans.
"The only way to respect European parameters is to commit economic suicide, which would lead to recession," said deputy prime minister Luigi di Maio of the 5 Star Movement party, in Rome on Monday, repeating
comments made last week
by independent Economy Minister Giovanni Tria.
"[Left-wing] Di Maio and [right-wing Lega Party partner Matteo] Salvini
are at loggerheads
over VAT sales tax, immigration and free prescriptions," says
Il Sole 24 Ore
. "But they are united on a hard line against Europe."
Hitting "procedural roadblocks" in Brussels' parliament over taking action against member states Poland and Hungary regarding their move towards 'anti-European' rules on migration and political freedoms, the European Commission yesterday also
warned Romania not to "abuse"
its new GDPR data protection rules to force journalists to reveal their sources.
Ahead of the Brexit deadline of 29 March 2019, average UK wages rose over the summer at their fastest pace in 3 years, new figures showed today.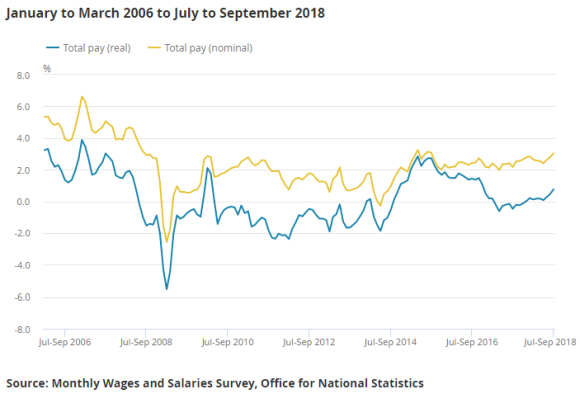 The figures also show the steepest drop on record in the number of migrants working in Britain from the "new EU" countries which joined the economic union in the early 2000s.
"Job creation since May has averaged just 2,900 a month," says senior economist Mike Jakeman at accounting consultancy PwC.
"This slowdown in the number of new jobs opening up is
likely to feed through
into weaker consumer spending in the coming months."
Major UK grocery group Premier Foods (LON: PFD) said Tuesday it's spending
£10m on "stockpiling"
key ingredients for its cakes, sauces and convenience meals ahead of the Brexit deadline.
Growing its earnings per share by 13.8%
over the last 6 months
from the same period in 2017, Premier sold £716m worth of goods on an annualized basis.