Gold Price Flirts with Post-Record Floor as US GDP Rebounds, Stimulus Delayed, France Attacked, Lockdowns Spread
Thursday, 10/29/2020 14:22
GOLD PRICES fell another $20 per ounce in London trade Thursday, sliding within $10 of the cheapest since before August's new all-time high as new US data beat analyst for forecasts for the summer's GDP rebound in the world's largest economy.
Crude oil meantime slid towards 5-month lows at $35 per barrel as the surging second wave of Coronavirus saw France and Germany re-impose national lockdowns while Japan and the Eurozone both failed to add new monetary stimulus.
Economic output in the US grew 33.1% at an annualized rate between June and September,
twice the previous best
on modern records and putting 2020 on track for a decline of 2.7%.
With the
Bureau of Economic Analysis
also saying that prices across the US economy rose much faster than Wall Street forecasters expected, currency traders pushed the Dollar up to new 1-week highs, while the London gold price fell to $1860 per ounce, down by $215 from the new high set on 6 August, before regaining $10.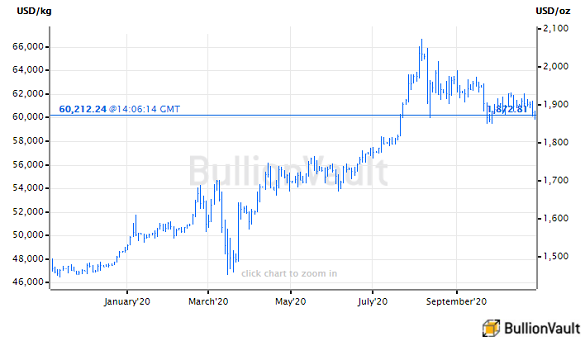 "Failure to agree on a US fiscal stimulus package" ahead of next week's presidential election "[has] weighed on gold," says a note from the precious-metals team at London bullion market-maker BNP Paribas.
While "not turning bearish", the bank's bullion team say their "flow of business concurs and we are seeing real money accounts selling gold continuously...whilst the technical signals worsen with a cross of the 100-day Moving Average.
"[That] should attract short-term speculative positioning in the next few days...[creating] a tactical consolidation [and] an opportunity to re-enter [a bullish stance] at a better price."
Gold priced in Euros and the UK Pound also flirted Thursday with their post-peak lows, dropping €160 and £140 respectively from August's record highs to trade at €1590 and £1438 per ounce.
Japanese Yen prices meantime dipped below the last 3 months' floor at ¥6250 per gram.
The Bank of Japan today said the world's 3rd largest economy will shrink 5.5% this financial year, worse than its previous -4.7% forecast, but raised its outlook for 2021's rebound slightly higher to 3.6%.
Politician opposition leader Yukio Edano of Japan's newly formed Constitutional Democratic Party meantime lambasted new Prime Minister Yoshihide Suga over appointments to the nation's Science Council, and also
called for urgent fiscal stimulus
including zero income tax for anyone earning below ¥10 million ($95,900), a temporary cut to sales tax (raised to 10% this time last year), and half-price tuition fees for poorer university students.
"[Economic] risks [are]
clearly tilted to the downside
," said the 19-nation European Central Bank in its latest policy statement today, holding deposit rates for commercial banks at -0.5% per year while ECB President Christine Lagarde said that the next round of additional stimulus will likely come at its December meeting.
The ECB will meantime continue its pandemic emergency purchase programme (PEPP) of buying a total €1.35 trillion in public and private debt, plus adding €20bn per month to the separate asset purchase program it began after the global financial crisis, already holding €2.9 trillion of bonds.
Wall Street opened higher following the US GDP data, while European stock markets cut earlier losses and Eurozone government bonds rose, pushing interest rates lower Lagarde's comments.
Berlin's Chancellor Merkel was today
heckled by right-wing opponents
in the Bundestag as she defended Germany "soft" second lockdown as "appropriate, necessary and proportionate", while France's Prime Minister Jean Castex had to interrupt his statement to the National Assembly after an Islamist terror attack killed 3 people outside a church in the southern city of Nice.
French police shot dead a would-be knife attacker in nearby Avignon, while Saudi Arabia arrested a man for
stabbing a security guard
at the French consulate in Jeddah.
The government of world No.5 gold consumer and No.9 gold reserves holder Turkey strongly condemned the attack in Nice while also summoning France's chief diplomat in Ankara to protest over satirical magazine Charlie Hebdo mocking Turkey's President Recep Tayyip Erdoğan in a cartoon on this week's front cover – "a despicable attack on personal rights and religious beliefs" – amid a worsening row over French President Emmanuel Macron calling Islam "
a religion in crisis all over the world
" at the start of October.
Silver also fell with gold prices Thursday, losing 25% from early-August's 7-year high but holding $1 per ounce above its subsequent low to hit $22.61.