Gold Prices Rebound as Governments Urged to 'Over-React' with Covid Stimulus, UK 'Military Support' Ready for New Lockdown
Tuesday, 9/22/2020 14:39
GOLD PRICES held above $1900 per ounce Tuesday in London, rallying to $1916 from yesterday's $70 plunge as world stock markets also bounced from a 4-day losing streak despite weak economic data and the tightening of social restrictions aimed at slowing the global 'second wave' of Covid-19.
European government bond prices slipped, pushing 10-year German interest rates up 3 basis points from yesterday's 6-week low of -0.54% per annum.
US Treasury yields meantime held flat this morning after Monday saw the inflation-adjusted 10-year rate – calculated after accounting for market-implied forecasts for the cost of living – rise to -0.94% per annum, the least negative since gold prices first rose through $1900 in late July.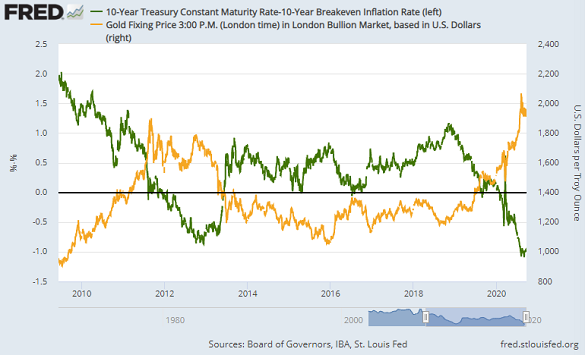 "Gold should be trading higher on safe-haven demand," reckons one futures brokerage strategist, "but it's kind of a repeat like back in the spring. When the [equity] market sell-off comes, participants have been selling off assets across the board."
"Dollar strength is an additional weakness" for gold prices, he adds.
The British Pound in contrast hit a fresh 9-week low on Tuesday as Sterling fell amid the imposition of tighter anti-Covid rules and regulations by the UK Government, including a ban on pubs or restaurants staying open beyond 10pm, with
Prime Minister Boris Johnson
saying he may "draw on military support where required to free up the police" in ensuring compliance with the new restrictions.
"Manufacturing firms continue to battle against headwinds from a resurgence of the virus, weak global demand, and uncertainty over our trading relationships [post-Brexit]," says the Confederation of British Industry, calling on the UK Government to
"step up its support"
as the summer's rebound in factory order books "stalls".
Online shopping, plus Germany's temporary cuts in MwSt sales tax and the federal government's
'Kinderbonus' payments
to parents of €300 per child, mean that retail sales across Europe's No.1 economy will grow 1.5% in 2020 as a whole the HDE association said Tuesday, rather than slumping 4% as earlier forecast.
"The risks of a policy overreaction are much smaller than the risks of policy being too slow or too shy to react," said Fabio Panetta, an executive board member of the European Central Bank, in a speech today urging more fiscal stimulus for the 19-nation currency union.
Panetta also pointed to "the sustained appreciation in the [exchange-rate] value of the Euro" – a topic increasingly discussed by ECB officials – because it "has brought about an undesirable tightening of financial conditions and offset some of the monetary accommodation provided by our [massive QE stimulus and negative interest-rate] measures."
Spot prices then sank another $26 over the following 35 minutes, hitting a 6-week low at $1883.
In Asian gold trading today, "Early session bargain hunters pushed the yellow metal back toward $1920" – the metal's previous record high of September 2011 – says a note from Swiss refining and finance group MKS Pamp.
"[But that] previous support and 50 [day moving average] restricted any further top-side gains, while a sharp retracement in the on-shore discount in Shanghai back toward $50 saw gold under pressure."
Gold prices in China, the metal's No.1 consumer nation, have now traded at a discount to London – reflecting a glut of supply over demand – without break since the start of March.