Gold Price Sinks $55 from 1m Comex Contracts Spike as Trump-Xi Hold Fire in Trade War
Monday, 7/01/2019 14:27
GOLD PRICES fell hard on Monday, losing $20 overnight from the highest weekly close since May 2013 after the US and China agreed at the G20 summit to revive trade talks, and US President Trump then walked into North Korea to shake hands with dictator Kim Jong-un, writes Atsuko Whitehouse at BullionVault.
Gold priced in US Dollars dropped as much as 1.9%, the metal's heaviest intraday fall in a year according to Reuters, before bouncing $10 higher from $1382 per ounce.
That was more than $55 below last Tuesday's spike.
World stock markets jumped following the US-China news, while crude oil rose over 2% on news that Iran will back continued output cuts by the Opec cartel of oil-producing nations.
"Although the downwards price reaction in gold to the trade deal seems to be logical, we do think the jury is still out on the ultimate result," brokerage INTL FC Stone's analyst Edward Meir said in a note.
Last week's jump in gold prices came as hedge funds and other leveraged speculators in Comex futures and options built their largest net bullish position since September 2017, up 21% from mid-June.
Overall, the total number of Comex gold future and option contracts open across the market jumped more than 18.1% p – the fastest 1-week expansion in gold derivatives in more than 3 years – to reach above 1 million.
The size of open interest in gold derivatives has only exceeded 1,000,000 twice before, both at the very top of gold's decade-long bull market peaking at $1920 per ounce in September 2011.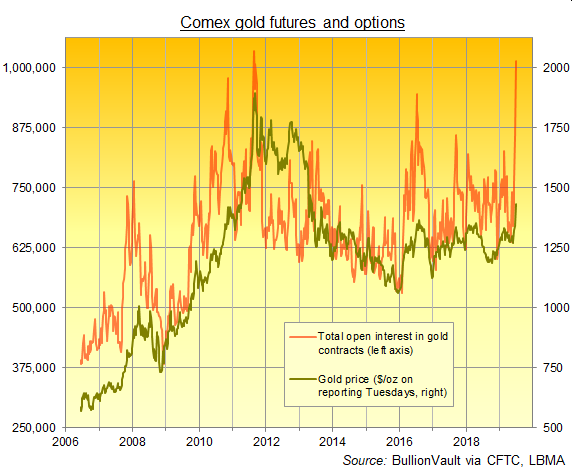 In contrast the largest
gold bullion
backed ETF, the SPDR Gold Trust (NYSEArca:GLD), saw investor selling need an outflow of 1.8 tonnes on Friday, shrinking 4 days in a row to require just 794 tonnes of bullion in total.
The smallest quantity since 20 June, that puts the GLD 2.0% smaller than this time last year, when bullion prices were $150 lower per ounce.
Back at the weekend's G20 summit of world leaders, US President Trump agreed in a meeting with China's President Xi to ease a ban on American companies supplying the Chinese tech giant Huawei.
Trump also said the US would not be adding tariffs on $300bn worth of Chinese imports.
Visiting South Korea after the G20 summit, Trump became the first American President to step onto North Korean soil when he met Kim at the Korean peninsula's demilitarised zone, declaring it
a "great" and "legendary" day
.
Over in China, where the Yuan currency rose sharply against the Dollar on the weekend's news, the Shanghai premium for gold bullion compared to London quotes eased back to $11 per ounce Monday – just 20% above the typical incentive for new gold imports to the No.1 consumer nation.
That was down from June's 55% extra incentive as Yuan gold prices sank 2.5% to 10-session lows following the Trump-Xi announcement.
Markets in Hong Kong were meantime closed for a holiday to mark the anniversary of its handover from UK to Chinese rule, a date marked today by fresh protests and unrest in the city.
European stock markets then surged Monday with the STOXX 50 index hitting its highest level in 17 months while gold prices fell 1.6% versus the single Euro currency.
Euro gold prices then rallied after a rare Sunday summit of European Union leaders failed to agree a new Commission president.
Talks then resumed over breakfast on Monday but were later suspended until 11:00 Tuesday.
For UK investors gold prices declined 1.7% but then also rallied, back above £1100 per ounce.