Gold Price Slips from 7-Week High as Asian Demand Supports But India Suffers Record Covid Cases
Monday, 4/19/2021 15:19
GOLD PRICES erased earlier gains on Monday as longer-term interest rates turned higher from multi-week lows despite a surge to fresh records for Covid-19 infections worldwide, and gold demand in China showed strength after the central bank relaxed bullion import quotas, writes Atsuko Whitehouse at BullionVault.
More than 5.2 million people were diagnosed with Covid globally last week, the most since the start of the pandemic, led by surging caseloads in India and Brazil.
Spot gold prices for London settlement fell back to $1767 after initially climbing 1.1% for the day to $1790 per ounce on Monday morning.
The highest Dollar price in 7 weeks, that came after gold bullion prices recorded the biggest weekly gain since December.
"Gold, the most interest-rate and Dollar-sensitive commodity, rallied to challenge and eventually break resistance at $1765 per ounce a key level," said derivatives platform Saxo Bank's commodity strategist Ole Hanse.
"A sustained break higher would significantly improve the technical outlook and potentially kickstart renewed momentum."
Major European government bond prices then fell however, driving borrowing costs higher as 10-year US Treasury yields rallied 5 basis points from a new multi-week low of 1.56%.
With US Treasury debt being sold off, the Dollar Index – a measure of the US currency's value versus its major peers – also retreated, hitting its weakest in 5 weeks.
"The [gold] market was buoyed by reports that China has given banks permission to import large amounts of bullion to meet domestic demand," says Daniel Hynes, senior commodity strategist at Australasian bank ANZ, pointing to stories from the Reuters news and data agency.
The People's Bank of China (PBOC), the nation's central bank, controls how much gold enters China through a system of quotas given to commercial banks. China's imports plunged in 2020 as the Covid Crisis shut jewelry stores and family festivals.
"We had no quotas for a while. Now we are getting...the most since 2019," Reuters quotes a source at a bullion-importing bank
Around 150 tonnes of gold worth $8.5 billion at current prices is likely to be shipped,
four sources said
, variously forecasting arrival for April through May.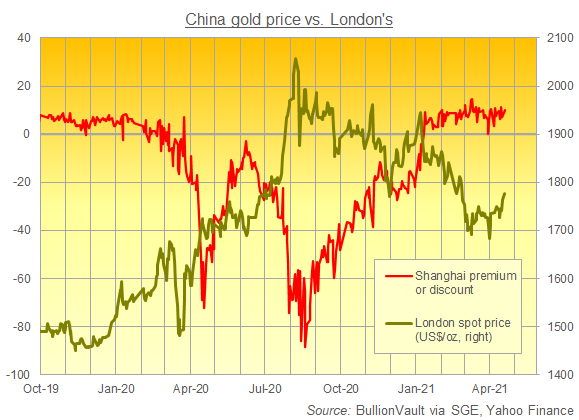 Prices on the Shanghai Gold Exchange continued to show a premium to London, increasing to $10 per ounce on Monday after wholesale bullion in the metal's No.1 consumer market extended the weekly average incentive to new imports to just above $8 last week.
Shanghai prices sank to a discount to London on 24th March last year, the morning after the
UK declared its first national lockdown
, dropping to as much as $88 below London quotes in August as gold prices hit all-time high in all major currencies.
China has since February 2020 imported an average of $600m per month in gold, roundabout 10 tonnes according to Chinese customs data crunched by Reuters, down from $3.5 billion a month – some 75 tonnes – in 2019.
Gold withdrawals from
SGE storage last month also surged
, totaling 168 tonnes, which was 75 tonnes higher than February and 85 tonnes higher than the same month in the previous year, according to a report published by the mining-industry's World Gold Council.
The report also points out that Chinese gold ETF holdings increased by 5.3 tonnes in March, reaching 72.4 tonnes, worth $3.9 billion to reach the highest on record.
"There's been
a sea change in sentiment
in Asia," says Rhona O'Connell, analyst at brokerage StoneX, which could provide a floor for gold prices if central bank gold demand also remains strong.
Asia's recovery is "critical in
setting the floor for gold
" and should stop prices from falling further over the coming months, agrees Suki Cooper, analyst at London bullion market-making bank Standard Chartered.
China and India typically account for some two-fifths of the world's annual demand for gold.
Oil prices steadied on Monday as concerns about demand from rising coronavirus infections in India and other countries were tempered by a weaker US Dollar.
Prices for silver
– which finds nearly 60% of its annual demand from industrial uses – edged lower by 0.4% to $25.88 per ounce, reversing the 2.7% gain recorded last week.
In contract, the price for platinum, which finds two-thirds of its demand from industrial uses, rose 1.3% to $1221 per ounce.