Gold Market "Worried by Weak China Demand" as Sterling Price Jumps on Scottish Independence Poll
Monday, 9/08/2014 13:16
GOLD MARKET prices for large wholesale bars held in a tight 0.5% range around $1268 per ounce Monday morning, as Eurozone stock markets slipped and London's FTSE sank with the British Pound after a new poll showed Scottish independence gaining the upper hand before next week's referendum on leaving the UK.
Europe's Brent crude oil benchmark slipped below $100 per barrel for the first time since June 2013 despite Moscow warning that sanctions over Ukraine against state-owned Russian energy giants Rosneft, Transneft and Gazpromneft could spark retaliatory blocks on energy supplies to Europe.
Gold priced in Sterling gapped more than 1% higher at the start of Asian trade – and touched a 3-week high at £787 per ounce – as the British Pound sank following Sunday's news of a survey showing voters in Scotland now favor independence 51% to 49%.
"We believe that a 'Yes' poses more questions than it answers," says a currency note from French investment bank Societe Generale, "and this will be negative for Sterling, perhaps to the order of 5% overall."
"The combination of political independence with a shared currency is a recipe for disaster," he warns, pointing to the "cautionary tale of Spain" being forced to slash state spending inside the Eurozone union.
Back in the gold market, speculative betting on higher prices fell 17% last week net of bearish bets, data from US regulator the CFTC showed late Friday, hitting the lowest level in 3 months.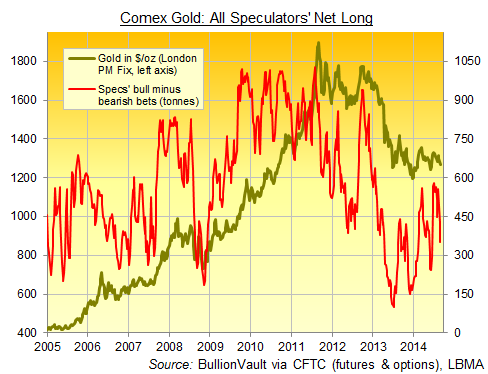 The move was led by a sharp rise in speculators holding bearish gold futures and options – growing some 30% for the second week running.
"Gold's opportunity up ahead," says a note from Swiss bank and London market maker UBS "is the strong potential for a short covering rally.
"Gold's two sizeable rallies this year, in March and July, originated from short covering" – where a rise in prices forces bearish traders to close their bets quickly, forcing prices higher again.
"This is gold's strongest lifeline right now."
With gold investment holdings through the SPDR Gold Trust falling more than 9 tonnes last week – the largest 1-week drop in 3 months, according to Reuters data – "The market remains concerned about poor physical demand, especially in China," says the latest Metals Matters from bullion bank Scotia Mocatta.
China's wholesale gold markets were closed for the Mid-Autumn festival.
New data today said China's exports jumped 9.4% last month from August 2013 while imports fell. That took the world's second-largest economy (and the largest gold producer, importer and consumer) to its largest ever monthly trade surplus, equal to almost $50 billion.
Germany also showed a record new trade surplus for August on Monday, as "demand from the US and UK more than offsett any weakness from German exports to Russia," reckons ING bank's analyst Carsten Brzeski.