Gold ETFs Grow as Shanghai Premium Rises Ahead of Chinese New Year
Wednesday, 1/13/2021 14:43
GOLD BULLION held $30 lower per ounce for 2021 so far in London trade Wednesday, but prices in No.1 consumer China continued to stay positive while Western investment ETFs backed by the metal expanded yet again.
"Record gold-backed ETF inflows in 2020 took holdings to all-time highs," says the mining industry's World Gold Council today, updating its latest figures for
gold-backed Exchange Traded Funds (ETFs)
, securities designed to track the gold price minus a management fee.
Putting last year's net inflows to gold ETFs at 877 tonnes – led by the 277 additional tonnes needed by giant trust fund the SPDR product (NYSEArca: GLD) – that equates to at least one-quarter of 2020's global gold mining output.
While the GLD hasn't expanded since 4 January, the first trading day after the Christmas break, smaller competitor the iShares Gold Trust (NYSEArca: IAU) saw net investor inflows of 0.1% on Tuesday, taking the quantity of gold needed to back its shares within 2 tonnes of November's record 531.
The price gap between gold prices in Shanghai and London – the global bullion market's central storage and trading point – meantime fell but
stayed positive for the 3rd session
running overnight, offering an incentive of $4.30 per ounce to new imports with barely 4 weeks until the Chinese New Year, the world's heaviest single gold-buying festival.
Retreating from yesterday's $9 per ounce – the typical level prior to 2020 – today's premium contrasts with the record run of record discounts marked by Shanghai gold as demand collapsed versus supply amid last year's Covid Crisis and record-high gold bullion prices.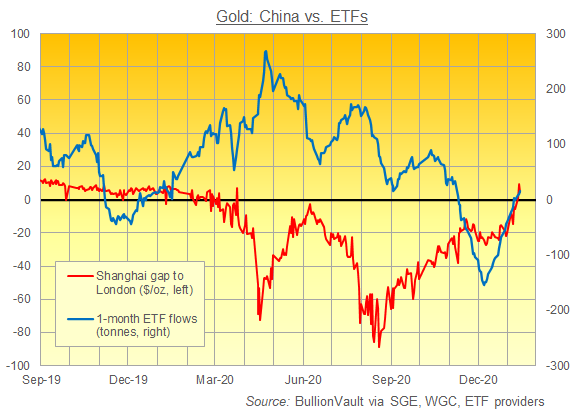 "There were sizeable ETF outflows in November" – the month of
gold's steepest price drop since Donald Trump won
the 2016 White House election – says
the WGC's new data
, "as investors reduced hedges and increased risk-asset exposure amid positive sentiment following the [2020 Biden] election and the announcement of successful Covid-19 vaccines.
"Outflows continued into December, [although] they slowed considerably and were modest by comparison."
The world's 2 largest such gold ETFs, both the GLD and IAU are listed in New York.
Europe's largest provider, WisdomTree also reports net inflows to its gold-backed ETFs for 2021 to date.
Gold also grew to a record in Russia's foreign exchange holdings in 2020, the
state-backed RT.com reports today
, overtaking the value of US Dollar holdings "for the first time ever" on data released for end-June last year.
Gold priced in Dollars held Wednesday above $1850 per ounce, unchanged for the week so far, while longer-term interest rates in the bond market retreated from yesterday's multi-month highs following
heavy demand for US Treasury debt
from investors at an auction of new 10-year bonds.
Silver prices
also held at last weekend's level, trading at $25.40 per ounce – some 10% below last Wednesday's sudden 4-month high – after the gray metal's largest ETF, the iShares Silver Trust (NYSEArca: SLV) saw 2 heavy days of net investor liquidation.