Gold Bullion Slips $10 as Chinese Stocks Sink 5% Despite Strong Data, Recovery in Jewelry 'Long Way to Go'
Thursday, 7/16/2020 14:02
GOLD BULLION slipped $10 per ounce from trading near last week's new 9-year highs in US Dollar terms on Thursday as Asian stock markets led a retreat in global equities, with China's key index seeing its worst 1-day plunge since February's Covid Crisis despite a raft of better-than-expected economic data.
Gold bullion prices retreated to $1804 per ounce as industrial commodity prices fell, with crude oil losing 1.2% by lunchtime in London, while major government bond prices rose, pushing 10-year US Treasury yields down near the lowest since late-April at 0.61% per annum.
Germany's 10-year Bund yield fell back to -0.47%, a record negative rate for would-be bondholders when first reached in summer 2019.
Official data released by the Chinese Communist Party dictatorship today said the world's second-largest economy grew by 3.2% per year in Q2, with June's industrial output also beating analyst forecasts.
China's domestic retail sales in contrast showed a 1.8% annual drop last month, with household demand for gold and silver jewelry sinking 6.8%.
The Shanghai-Shenzhen stock market
lost 5% at one point
, while Hong Kong lost over 2% and European bourses then slipped 0.7% on average after the 19-nation Eurozone's central bank kept its negative rates and QE stimulus policies unchanged – as expected – at June's record levels.
While the price of gold bullion bars in India – the metal's No.2 consumer country – have now erased their discount to London on
the collapse in Indian gold imports and smuggling
, prices in China today fell to a $33 per ounce discount below that global benchmark.
The deepest discount for Shanghai bullion in 9 weeks, that suggests weak domestic demand against supply in the world's No.1 gold mining and also No.1 gold consumer nation.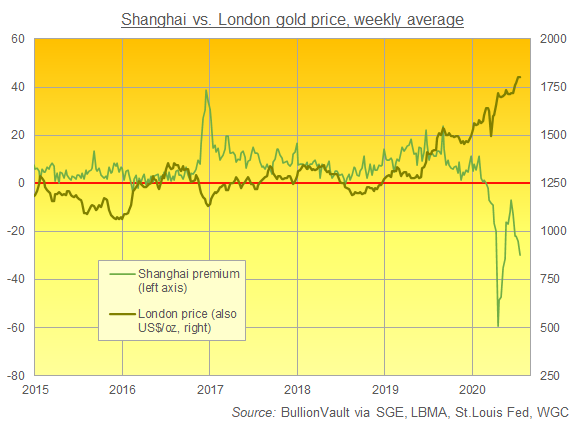 "On balance," says analyst Rhona O'Connell at brokers StoneX, "the underlying [economic] recovery in China seems to be well-founded...[with] power output, a key gauge...at a six-month high in June, up 6.5% year-on-year, the largest gain since August 2018.
"But jewelry in particular has a long way to go.
"We would expect that the older generations, with their preference for 24-carat chuk kam, may well return to the market sooner than the millennials, who favour carat-jewelry [for] adornment rather than investment and will not be a priority."
With US politicians now pushing to force independent audits on Chinese corporations wanting to list their shares on US stock exchanges, Nasdaq-listed Kingold Jewelry (Nasdaq: KGJI) last night told US regulator the SEC it is
under investigation by Chinese authorities
over allegedly painting 83 tonnes of copper bars to look like gold bullion, then used as collateral to raise 20 billion (US$2.9bn) of fraudulent loans in China.
The scandal has already seen the Wuhan-based jeweler's bank accounts frozen as it faces lawsuits from shareholders and other parties both at home and in the US.
Kingold marks the second such accounting scandal of 2020 for a US-listed Chinese corporation, after would-be Starbucks competitor Luckin Coffee (OTCMKTS: LKNCY) sacked its chairman and announced a new CEO after
mis-reporting 2019 revenues
by over $310m.
While Luckin Coffee's stock has now lost over 9/10ths from January's peak, KGJI has fallen by 2/3rds so far in 2020.
"Signs that China, the world's biggest producer of steel, is mounting a solid recovery have propelled iron ore prices,"
says the Financial Times
, noting the base metal's 21% gain in Dollar terms since New Year as the world No.2 economy "sucks in vast amounts of the key steelmaking ingredient from mines in Australia and Brazil."