Gold Bullion Demand in China 'Increasing' on PBoC Rate Cuts, But Western ETFs See Heaviest Outflow Since November
Monday, 5/11/2015 15:37
GOLD BULLION recovered an earlier drop in wholesale London trading Monday lunchtime, rising back to $1189 per ounce as US stock markets opened the day near last month's new all-time record highs.
China's main stock indices had leapt overnight, adding 3% in Shanghai after the People's Bank cut its key interest rates for the third time in 6 months, and weak inflation data
led analysts to forecast further cuts
ahead.
The Euro currency meantime held near 1-week lows to the Dollar as Athens' finance minister met Eurozone partners to discuss Greek reforms in return for bail-out loans ahead of Tuesday's deadline for repayment of €750 million to the International Monetary Fund.
"The messages we are getting are that it will be difficult," Varoufakis told Greek radio. "The Greek government is struggling in a very tough negotiating fight."
Silver also reversed its earlier 0.7% drop with gold bullion, but other metal prices fell as European Brent crude oil contracts slipped to $65 per barrel, some 4% below last week's new 2015 highs.
"Between the first in what is now a series of [Chinese] rate cuts in November and the end of April," writes Japanese conglomerate Mitsubishi's analyst Jonathan Butler, data from the Shanghai Gold Exchange "indicate that consumer spending on gold is increasing [with a] 64% year-on-year rise in implied gold sales" through the government-approved exchange.
"There may also be increased speculative positioning as investors look for returns."
Prices for gold bullion deliverable through the Shanghai Gold Exchange held flat Monday on solid turnover, with the premium over comparable London quotes slipping below just $1.20 per ounce.
UK trade data last week showed net outflows of gold bullion from London storage – center of the world's wholesale supply chain – reaching more than 100 tonnes in March.
Gold investing through trust fund structures holding bullion in London storage fell hard last week, with the giant SPDR Gold Trust (NYSEArca:GLD) seeing its heaviest 1-day outflow since December on Friday to mark the heaviest weekly drop since November.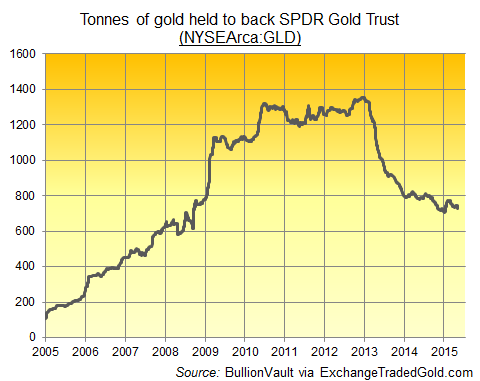 The giant
iShares Silver Trust
(NYSEArca:SLV) also shrank in size, extending the drop from mid-April's three-month peak to 2% with 10,035 tonnes of bullion now held to back its shares.
Globally, says the new World Silver Survey produced by data consultancy Thomson Reuters GFMS for the Silver Institute, vaulted holdings of silver bullion – including ETFs as well as private custody – rose by 8% in 2014.
Stockpiles in Asia grew by more than 10% on GFMS data, as "Chinese banks continued to expand their precious metals leasing businesses, which have required increasing holdings."
"On the weekly chart, we have had a series of lower lows, and lower highs...which keeps the big picture bearish for gold."