Oil Crash Sees Gold Buying Paused by No.1 Central Bank, Price Slips as Stock Markets Fall
Wednesday, 4/01/2020 14:06
BUY GOLD prices retreated to 1-week lows in London trade Wednesday, slipping as the 21st Century's No.1 central-bank buyer put new purchases on hold, while world stock markets fell hard amid the worsening hit to industrial activity and commodity prices from the coronavirus pandemic and lockdowns.
Prices to buy gold with the US Dollar touched $1570 per ounce overnight, before rallying $15 but remaining 7% below last month's new 7-year high.
The Russian Ruble meantime fell to 5-year lows on the currency market, down by one-third from the start of 2020 as the price of oil – Russia's major productive industry and export – sank to new 19-year lows near $20 per barrel.
"Effective from 1 April 2020," Moscow then said yesterday, "[the CBR] suspends purchases of gold in the domestic bullion market. Moving forward, subsequent decisions on gold purchases will be made subject to financial market developments."
Over the last 10 years Moscow has accounted for more than 38% of the world's central-bank gold buying.
"The theory of market efficiency tells me that the fading gold price today is affected by the loss of one of its best long-term clients," says one London bullion desk in a note to clients.
"Sentiment wasn't helped by news that Russia's central bank, one of the biggest buyers of gold, would stop purchasing the precious metal on Wednesday," agrees a trading note from Australasia's ANZ Bank.
"Dislocations in the physical market also suggests [Moscow] may be ready to help alleviate the tightness" by selling some of its massive stockpile.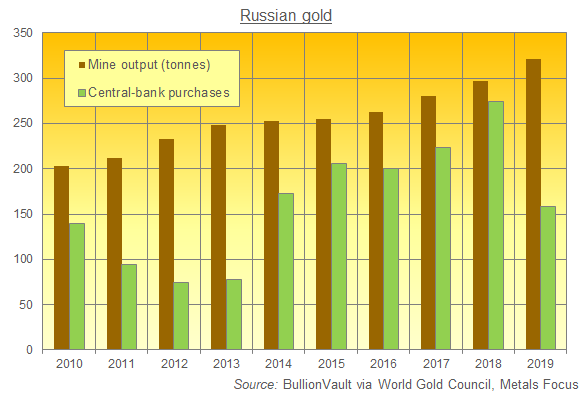 Over the 5 years starting 2014, when international sanctions against Russia blocked much of its world No.3 mine output from reaching the global market, Moscow bought 80% of domestic production.
That also enabled Russia's central bank – itself blocked from acquiring foreign currency so easily for its reserves – to
build its financial holdings
by spending Rubles at home.
Russia's gold mining
output rose 8% in 2019
, according to data compiled for mining-backed World Gold Council by specialist analysts Metals Focus.
That rise was led by growth from new "greenfield" projects such as
Natalka
– discovered in 1942 but only mining at full capacity since late 2018 – owned and operated by London-listed Polyus (LON: PLZA).
"The Central Bank of Russia has been a dynamic participant in the gold market for years," says a London bullion market-making bank, "developing its local market and establishing strong ties with market-makers and the broader gold industry community.
"Whilst assisting in the development of the Russian gold market, it has [also] strengthened its financial position relentlessly by buying gold at whatever the price was, high or low, like clockwork."